Robert J. Kaiser Middle School Principal Michelle Knowlton was honored by the Mid-Hudson School Study Council with an award for excellence in administration. These awards honor outstanding educational professionals in the Mid-Hudson region. Typically, these awards are presented at the organization's annual awards dinner, however, Ms. Knowlton was unable to attend. Not wanting the award to go unrecognized, the administrative team celebrated Ms. Knowlton at its monthly meeting, surprising her with a cake.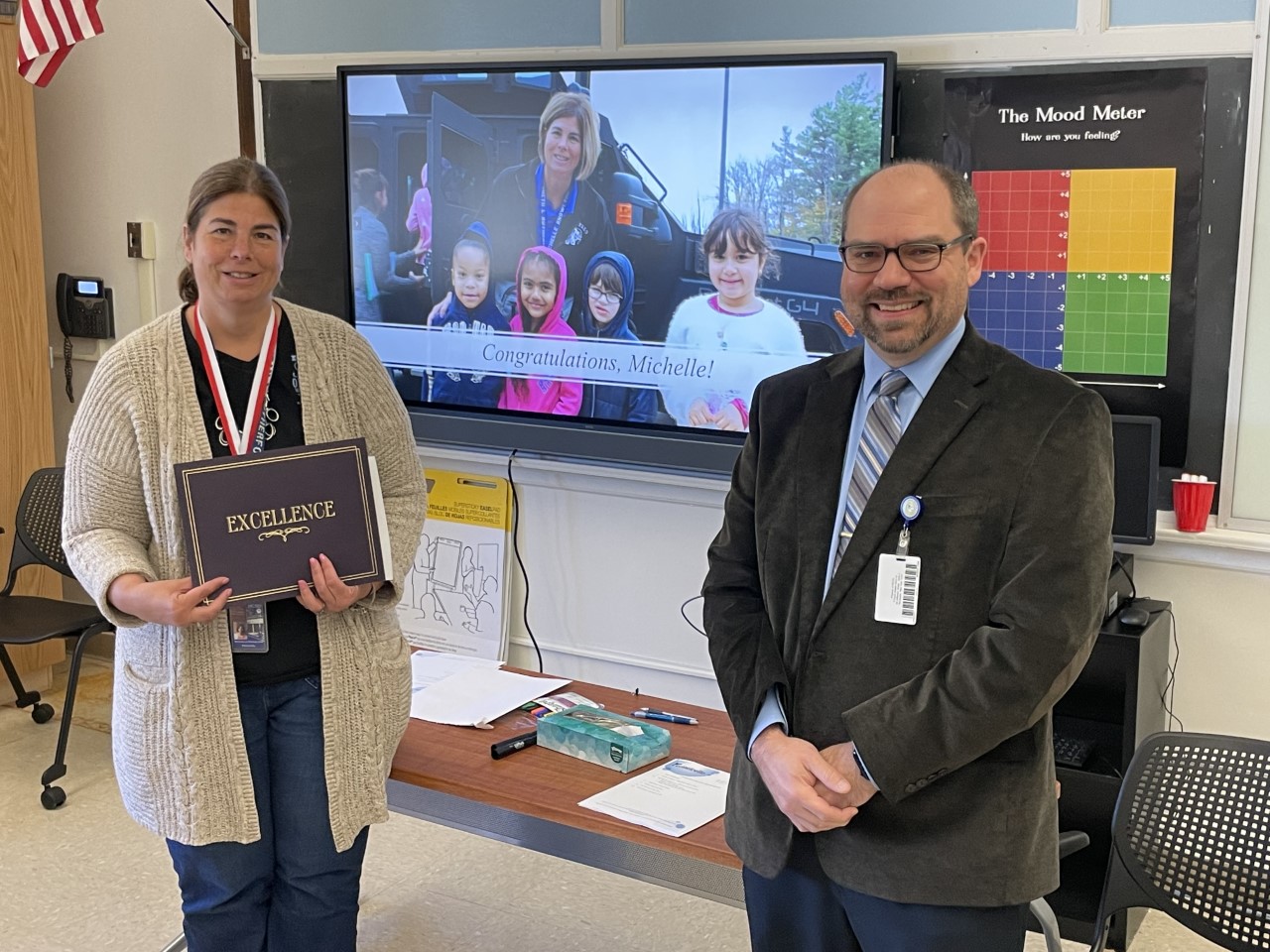 Ms. Knowlton began her career at the Monticello Central School District in 1991 as a social studies teacher at Monticello Middle School. When the middle school moved to its new location, she moved with it to become a social studies teacher at Robert J. Kaiser Middle School (RJK). She ascended to assistant principal of RJK, followed by a stint as principal of Kenneth L. Rutherford Elementary School, before returning to her home base as principal of RJK.
"Michelle is timely, responsible and of the highest moral character," wrote RJK assistant principal Jason Doyle in his letter nominating Ms. Knowlton. "Each day, she comes to work early to begin her duties, which include keeping all students and staff safe, leading by example, integrating technology education and promotion best practices. In addition, she created constructive relationships with staff, parents and students. Michelle is highly respected by her administrative colleagues, teachers throughout our district, parents, community agencies, and of course, our students at Robert J. Kaiser Middle School."
"It wouldn't have been possible to receive this award without the incredible work that my staff and faculty have done since I took the helm," Ms. Knowlton said. "I'm very proud of my team. From redesigning the schedule, to covering our walls with bright colors, to rearranging the library, we worked relentlessly to create a place that was welcoming for all our students."  
Ms. Knowlton is retiring at the end of this school year. Although she has much to be proud of during her three decades as a Panther, one aspect stands out above all the others.
"I am most proud of the relationships that I have built with the Monticello families and community over the years," she said. "I may have a reputation for being tough, but I love my students. Our families, including our students, are our most valuable asset, and I hope they realize how important they are to me."