The MCSD is committed to supporting our students and families who are navigating online learning.
Tech Help
Parents and students can submit a work order through the following link. https://k12mcsd.incidentiq.com/guest/RM5BUUDP/remote-support-request
Can't sign in/forgot password? 
If you need help accessing your password, please contact your child's building:
Emma C. Chase Elementary – 845-888-2471
George L. Cooke Elementary – 845-794-8830
Kenneth L. Rutherford Elementary – 845-794-4240 (Please ask for Lisa Hummel)
Robert J. Kaiser Middle School – 845-796-3058
(Please ask for Lois Scamihorn or Becky Perez)
Monticello High School – 845-794-8840
(Please ask for Jami Welch)
Can't find assignments? Having trouble with the online learning platform? 
Are you having issues with you child's online learning platform or accessing assignments?
Please contact your child's teacher directly. Click here to access our Staff Directory
Microsoft Teams Training
On Sept. 15, trainers from Microsoft held a virtual tutorial on using Teams. The training was recorded and is available to watch here. 
There is also a Teams Tutorial Document with resources available here
Quick Links
How to login to student email:
FAQ -Frequently asked Questions
Troubleshooting
Forgot Password
If your child can not remember his or her password, please call the main office of the school your child attends. 
Device not working
If you're having difficulty with your district-issued device not working properly,  such as:
the device won't turn on
the device won't charge
the screen or keyboard is broken
please call 845-794-9430 Monday through Thursday between 8 a.m. and 4 p.m. You may be asked to make an appointment to bring the device to the district's IT department to resolve the issue. Please note that we are only able to provide support for district-owned devices. We can not troubleshoot difficulties with personal devices. 
Using the device/software 
For assistance using district-owned devices and/or software, including: 
logging into ClassLink
accessing Schoology
finding an app that is missing from your child's iPad
connecting the device to the internet
please contact your child's teacher. If your teacher is unable to provide support, please call 845-796-5085 Monday through Thursday between 8 a.m. and 4 p.m. 
Remote Assistance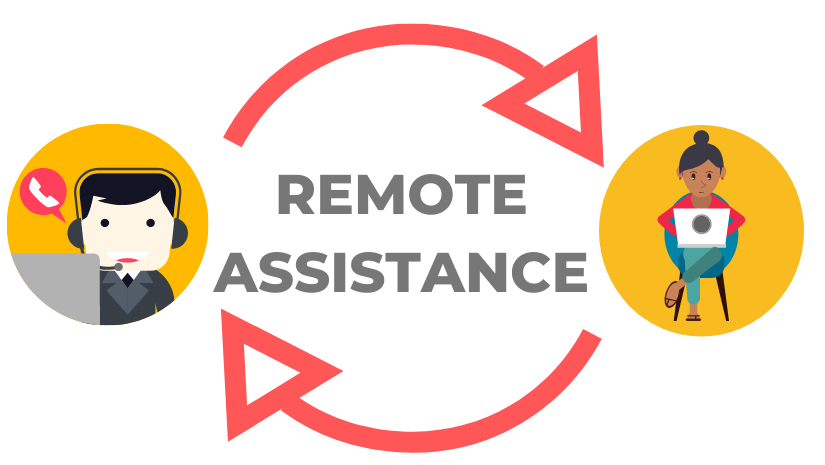 Step 1:
In some cases, the Monticello tech support team may need to see what you're seeing in order to diagnose and solve the problem. If that's the case, the tech department will ask you to download a file that will allow our support team to temporarily view your desktop remotely. 
If you have spoken to our tech support team, and they have asked you to download the "Remote Assistance" file,  please click here, or click the  "Remote Assistance" image above to initiate the file download. 
***DO NOT download the file until and unless you have been instructed by the tech department over the phone to do so.***
Step 2: 
The link will take you to a Dropbox webpage, where you can download the file. If you do not have a Dropbox account, you may arrive at the screen below. Please note that you do not need to create an account in order to download the file. Simply click on the "X" or the "No thanks, continue to view" text, as shown in the image below.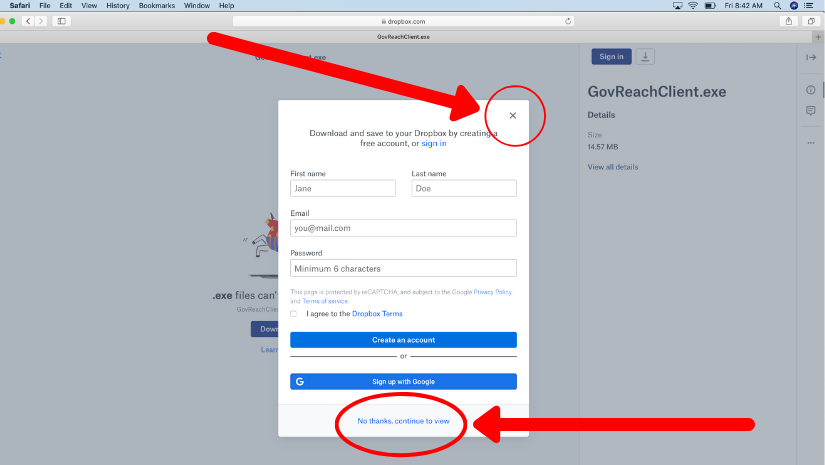 Step 3:
Click the blue "download" button and, if prompted, select "direct download"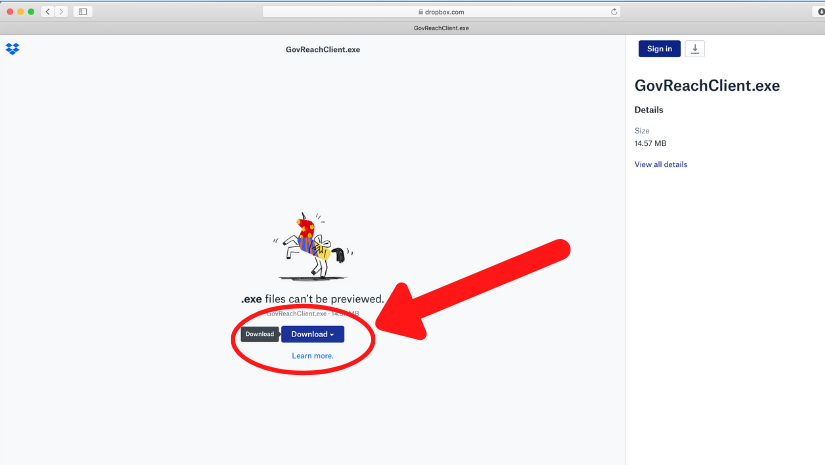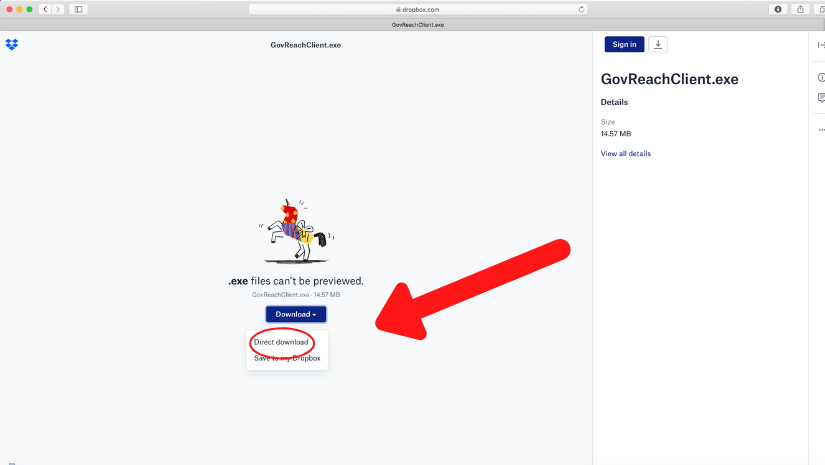 Step 4: 
Once the file has download to your machine, click on the file and select "Run." Our tech team will walk you through the next steps.