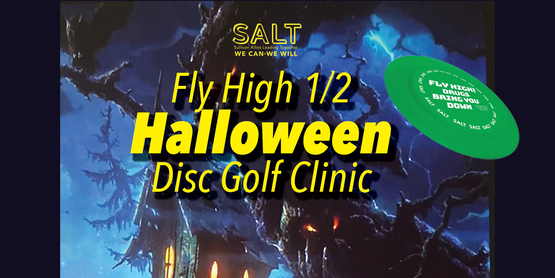 Sullivan Allies Leading Together (SALT) is hosting a free disc golf clinic on Saturday, May 15 from 12-3 p.m. at Walnut Mountain Park, located at 73 Walnut Mountain Rd, Liberty, NY 12754.
Disc Golf is one of the fastest-growing sports in the world! Come Fly High with Us! 
Dress up! 
Have fun 
Get exercise 
Make friends 
Eat snacks! 
Learn Disc Golf
This exciting event combines Halloween and Disc Golf with Prizes for Best Costume & Best and Most Creative Player! It's halfway to Halloween and we had a rather dull 2020…so why not celebrate again! 
Dress in costume (if you want) while you learn from 2 semi-professionals how to play disc golf. Liberty has a 9 hole course that takes about an hour to complete. This is for age 11 and up, more of a youth event, but there will be room for younger and more mature people to play frisbee as well – so bring the whole family. And there will be FREE FRISBEES to take home!
Participants are required to adhere to 6ft apart physical distance standards, wear face coverings that cover the mouth and nose, and sign an Acknowledgement of Risk to attend all CCE Sullivan in-person programs. 
Contact the CCESC office to request any special accommodations.
Disclaimer: This event is sponsored by the partners listed in the event above. It is neither sponsored nor endorsed by the Monticello Central School District. Monticello Central School District is distributing this information as a public service. Any marketing materials regarding this event were reproduced by the sponsoring group(s) at no cost to the school district