Where: Monticello High School Auditorium (Arnold Packer Hughs Auditorium)
When: Tuesday, September 27th, doors open at 6:15 p.m.
What: Nathan Harmon will host a parent/guardian night where the messages discussed during his visit with the students are reinforced and furthered discussed with parents, guardians, and the community at large. Themes include building stronger connections collaboratively with students, community, teachers, and parents. This is a free event, and all are welcome. 
About Nathan Harmon: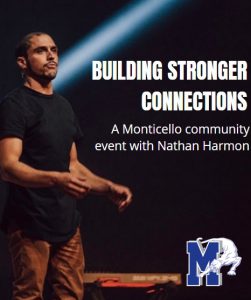 Nathan Harmon i
s an international speaker and the founder of 
Your Life Speaks
. Nathan speaks at universities, public & private schools, conferences, retreats, and many other venues. He has been recognized as the 
Top Booked School Speaker of
2017-2022
& currently is on pace to speak in 100+ schools in 2021-2022. Nathan's desire is to see every person recognize their potential, and realize they are more than their current and difficult past. His energetic and powerful messages resonate with all age groups. Nathan is beyond passionate about people and encourages lifelong change. He talks about making good choices, leadership, accountability, transparency, working hard, and 
valuing people. Nathan presses in on discovering your "why" &
taking ownership of your life, which are key ingredients to have a healthy and successful future. Nathan struggled in his middle – high school years and made some really bad decisions with drugs and alcohol. 
Nathan just celebrated his "13
th
" year of sobriety this July. 
Nathan has been the leading voice on substance use, vaping, bullying, mental health, & suicide. Nathan's keynotes aid in building bridges through community, discussing your struggles with a trusted adult, that conversations matter, and that asking for help is the first step to breaking barriers surrounding mental health. In 2019, Nathan was asked to be the leading voice in a raw and intimate global documentary called 
Connecting the Dots
. This heart-felt poignant documentary showcases stories of lived experiences of youth from a global perspective. Nathan has also been a guest on various radio, T.V., social media outlets, and interviewed for numerous magazines and newspaper articles. He travels from coast to coast with his wife and two children.