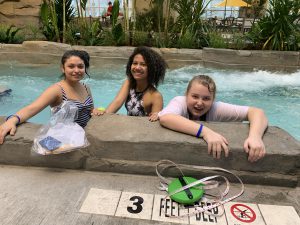 A group of Monticello Central School District science students spent the greater part of the day on Friday, May 10 calculating water pH levels, performing tests to determine how height and incline influence speed and conducting experiments to learn the difference between kinetic and potential energy. Although the tools they used were what you would find in any ordinary science classroom – thermometers, pipettes, stopwatches – their laboratory for the day was anything but ordinary.
The newly-opened Kartrite Resort and Indoor Waterpark invited students throughout Sullivan County, including Monticello, to participate in its grand opening celebration as part of a "STEAM" (Science, Technology, Engineering Arts and Math) event.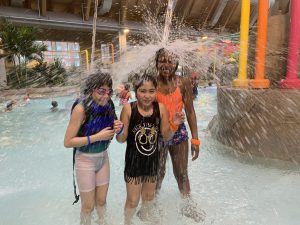 In order to participate, interested teachers were  challenged to create a lesson plan and group activity that turned the water park into a science laboratory. Some students raced rubber ducks down inclines of varying heights to learn how steepness can effect speed. Others observed the speed of a tennis ball floating down a straight line vs. a curved line. Yet others dutifully recorded temperatures throughout the park and collected samples of water from a variety of sources, scribbling furiously at tables to record their observations. 
"The whole experience was the epitome of hands-on learning," Superintendent of Schools Tammy Mangus said. "Between our educators' innovative lesson plans and our kids' excitement and enthusiasm, I know our students have returned to classroom with a more pragmatic understanding of scientific concepts. We're so grateful for the generosity of the Kartrite Resort and Indoor Waterpark for offering this opportunity to our students."