Students at Monticello High School, RJK Middle School and Rutherford Elementary each won Amazon gift cards thanks to their participation in the Sullivan County BOCES-sponsored Cross-County Reading Challenge.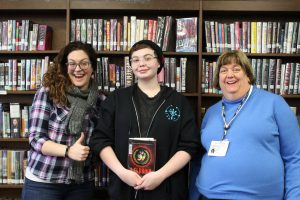 Senior Claudia Seward, sixth-grade student Griffon Tamweber and KLR fourth-grader Jasheilitz Gonzalez Toro are avid readers and have been part of this Cross-County Reading Challenge since it launched in September.
According to Lynn Miller, School Library System Director at SC BOCES, the
"We started the school year by asking Sullivan County students to tell us about the books they have been reading independently in our Cross County Reading Challenge and if they shared them with a friend," said Lynn Miller, School Library System Director at SC BOCES. "The latter is our way to encourage students to discuss books with others and to create a culture of reading."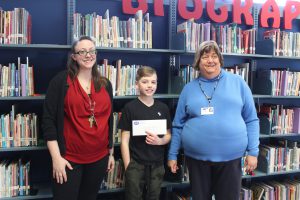 Students log their book title, genre, grade and school, and answer a few questions including what book they will be reading next.  Miller and her staff make lists of the books read, arranged by grade, and make the lists available to other students and parents. Teachers are part of this initiative as well, logging their reading material.
Claudia Seward said this challenge, along with Monticello High School librarian Stephanie Byrne, encouraged her to read genres she wouldn't normally.
Griffon Tamweber, who likes to read books about World War II as well as graphic novels, has read more than 40 books since the challenge began in September. Librarian Kimberly Schneider is very impressed by that.
Like Griffon, Jasheilitz Gonzalez Toro leans toward the graphic novels as well.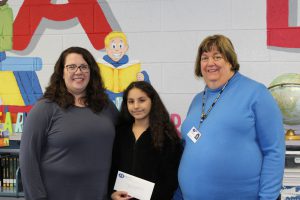 She just likes to read. And that makes KLR librarian Kate Riley Prisco very pleased.
"We hope this prize will help to promote independent reading in your schools and the literacy of the county," said Miller. "Without your librarians' efforts, these reading activities would not be nearly as successful."
It's never too late to start your reading journey. To join in on the challenge, click here.