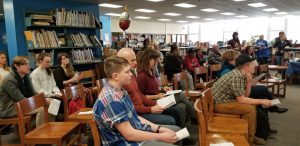 On Friday, Feb. 8, Monticello High School held its Student of Distinction ceremony for the second marking period.  This celebration of excellence honors students who were collectively recommended by each department in the high school for standing out in a positive way. 
Family and friends were invited to share in the success and were treated to beautifully crafted speeches by teachers of each department.
Below is a list of our Students of Distinction and the departments that nominated them.
Art
Jordan Laymon
Business/AoF/FACS
Julissa Vargas Freytes
English
Sydney Lemmerman
Guidance
Allan Holland
Language/LOTE
Kali Pantone
Math
Astrid Rodriguez
Music
Edward Spear
Science
Molly Jane Garcia
Social Studies
Noah Rogers
Special Education
Javante Gordon
Technology
Owen Bassett
Phys Ed
Lauren Edwards