Students in the Monticello Central School District can receive dental services during the school day, thanks to PRASAD.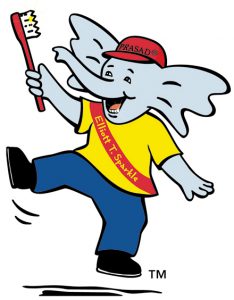 The mission of PRASAD CDHP is to improve the quality of life of children by providing oral care services and dental health education. Our program is a certified, New York State Department of Health Article 28 Clinic and School Based Health Center, approved to operate at Sullivan County schools.
DENTAL SERVICES
Our vehicle, with two fully equipped dental offices, allows us to provide: dental exams and an array of dental treatments including sealants, cleanings, fluoride, fillings, extractions, space maintainers and x-rays.
WHO IS ELEGIBLE TO RECEIVE SERVICES?
Children ages six months through 18 years of age. PRASAD CDHP accepts most insurance plans including Medicaid, Delta Dental, Fidelis, MVP and Affinity. We also offer a sliding fee for uninsured children. An appointment is required. For more information, please call 845-434-0376 ext. 216.
HOW CAN I MAKE AN APPOINTMENT?
You can make an appointment by calling our office at 845-434-0376. In addition, the school will send application forms home with all children before the clinic's visit. Parents/legal guardians must sign and return the medical history form, showing consent for treatment before their child can be seen in the clinic.
WHAT IS THE SCHEDULE FOR THE MOBILE DENTAL CLINIC?
The dental clinic visits Sullivan County schools on a rotating basis. It is possible to arrange an appointment when the clinic is not at your local school site or during the school holidays. The clinic is also open during the summer at our main office in Liberty.
PRASAD CDHP provides dental care services and dental health education to children in Sullivan County and some areas of Ulster County. For more information, visit us at www.prasadcdhp.org or call 845.434.0376. © 2018 PRASAD Children's Dental Health Program, Inc. ® All Rights Reserved
Español
Los estudiantes del Distrito Escolar Central de Monticello pueden recibir servicios dentales durante la jornada escolar, gracias a PRASAD.
La misión de PRASAD CDHP es mejorar la calidad de vida de los niños brindando servicios de cuidado bucal y educación sobre salud dental. Nuestro programa es una clínica certificada del Artículo 28 del Departamento de Salud del Estado de Nueva York y un centro de salud basado en la escuela, aprobado para operar en las escuelas del condado de Sullivan.
SERVICIOS DENTALES
Nuestro vehículo, con dos consultorios dentales completamente equipados, nos permite brindar: exámenes dentales y una variedad de tratamientos dentales que incluyen selladores, limpiezas, fluoruro, empastes, extracciones, mantenedores de espacio y radiografías.
¿QUIÉN ES ELEGIBLE PARA RECIBIR SERVICIOS?
Niños de seis meses a 18 años de edad. PRASAD CDHP acepta la mayoría de los planes de seguro, incluidos Medicaid, Delta Dental, Fidelis, MVP y Affinity. También ofrecemos una tarifa móvil para niños sin seguro. Se requiere una cita. Para obtener más información, llame al 845-434-0376 ext. 216.
¿CÓMO PUEDO HACER UNA CITA?
Puede hacer una cita llamando a nuestra oficina al 845-434-0376. Además, la escuela enviará formularios de solicitud a casa con todos los niños antes de la visita a la clínica. Los padres/tutores legales deben firmar y devolver el formulario de historial médico, mostrando su consentimiento para el tratamiento antes de que su hijo pueda ser visto en la clínica.
¿CUÁL ES EL HORARIO DE LA CLÍNICA DENTAL MÓVIL?
La clínica dental visita las escuelas del condado de Sullivan en forma rotativa. Es posible concertar una cita cuando la clínica no se encuentra en la escuela local o durante las vacaciones escolares. La clínica también está abierta durante el verano en nuestra oficina principal en Liberty.
PRASAD CDHP brinda servicios de atención dental y educación sobre salud dental a niños en el condado de Sullivan y algunas áreas del condado de Ulster. Para obtener más información, visítenos en www.prasadcdhp.org o llame al 845.434.0376. © 2018 PRASAD Children's Dental Health Program, Inc. ® Todos los derechos reservados
aplicación PRASAD: https://prasadcdhp.org/wp-content/uploads/2021/07/PRASAD-Application-Spanish-updated-2021-05-20.pdf
Más información: https://prasadcdhp.org/