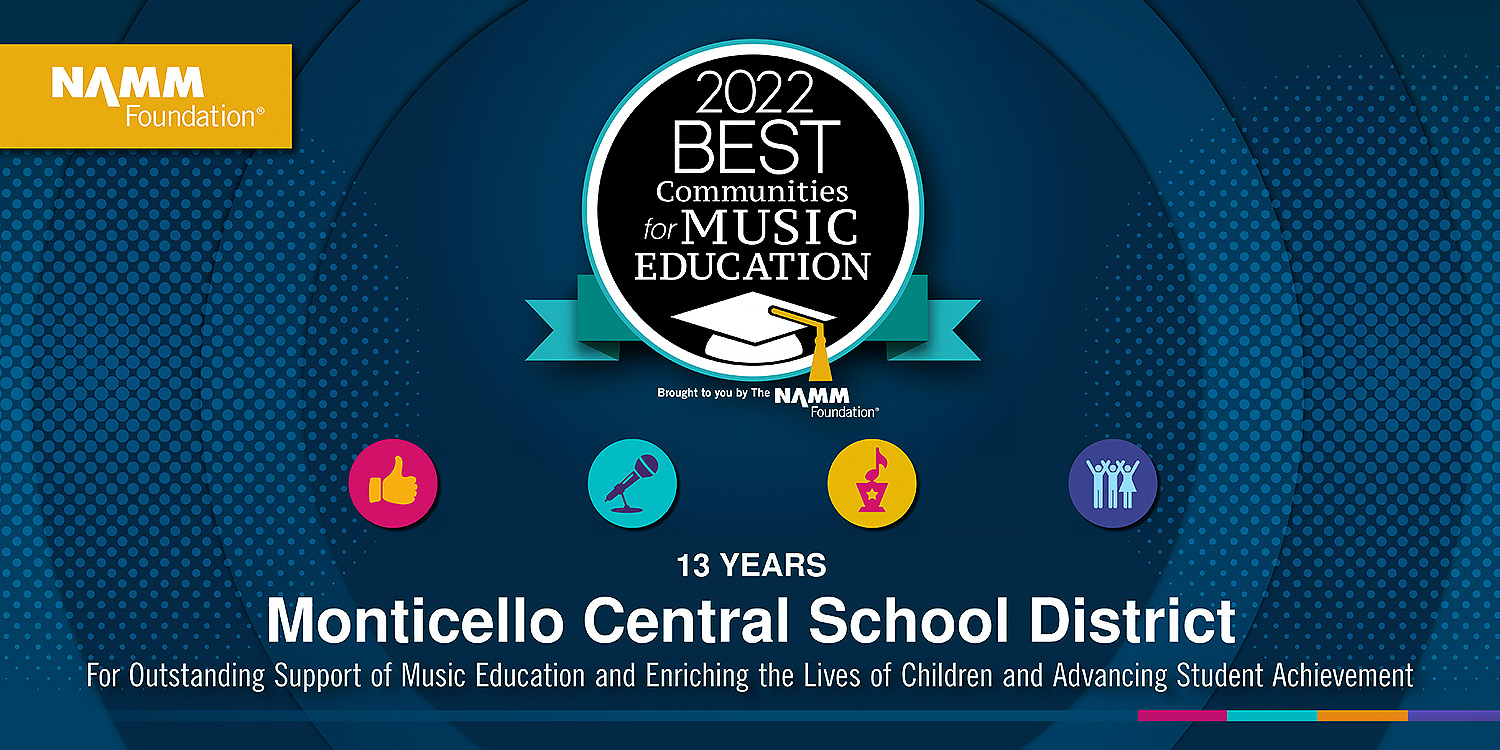 The Monticello Central School District has been honorably named a "Best Community for Music Education" by the National Association of Music Merchants (NAMM) Foundation for the 13th consecutive year. The designation shows a commitment by our Board of Education and Administration, coupled with the dedication of our highly qualified music teachers, to provide a deep and meaningful music education to all students of our district.
There were many initiatives that led to this distinguished honor, including the generous donation of a clarinet from the class of 1959. Brenda Farquhar, a member of the graduating class of 1959, sought to make a donation on behalf of her class and in honor of Dr. Robert J. Kaiser. For Ms. Farquhar, it only seemed fitting to contact the school bearing his name – Robert J. Kaiser Middle School, which opened its doors 20 years ago.
Ms. Farquhar reached out to RJK Principal Michelle Knowlton and asked how the school could best use a $600 donation. Principal Knowlton suggested the donation be used to purchase an instrument for a student unable to afford one. Thanks to the work of Performing Arts Department Instructional Lead Mike Mingo and Bill Berry from the Robert M. Sides Family Music Center, a full clarinet starter kit was assembled for a student, which included the instrument and accessories needed to play. The instrument will be inventoried and loaned each year to a sixth-grade student in need. Superintendent of Schools Dr. Matthew Evans stated "This award is unique in that it is awarded on the basis of the local community's effort to support the arts. I think today's donation from the class of 1959, and the assistance of Robert M. Sides Family Music Center over the years is illustrative of how fortunate we are to be surrounded by a community that cares."
MCSD has also created a new music-based graduation pathway for students, expanding its support for music education and the arts. This is a pilot program and the district has been selected as one of the select few in New York State to test the program. The traditional graduation pathway at Monticello High School consists of two, 3-year sequences of math and science courses. The music-based graduation pathway would offer students the ability to do two, 5-year sequences of music courses beginning in eighth grade, as well as allow students to substitute for a regents. In the first sequence, students would take the required math and science courses needed to graduate. In the second sequence, students would take select music-based courses.
A student can do a music-based graduation pathway at MCSD if music knowledge-based classes are offered, such as "Music Technology" or "Music History". For example, a student can substitute a language class for a music knowledge-based class. In addition, the music-based graduation pathway would require students to complete three years of performing groups (band, orchestra or chorus), as well as two years of music knowledge-based courses with AP Music Theory as a requirement to graduate.
This is just some of the hard work MCSD does each day to provide all students in the district with access to music opportunities. MCSD continues to explore new and innovative ways to incorporate music into our schools and community, through various programs, initiatives and technology.
About The NAMM Foundation
The NAMM Foundation is a nonprofit supported in part by the National Association of Music Merchants and its approximately 10,300 members around the world. The foundation advances active participation in music making across the lifespan by supporting scientific research, philanthropic giving and public service programs. For more information about The NAMM Foundation, please visit www.nammfoundation.org.