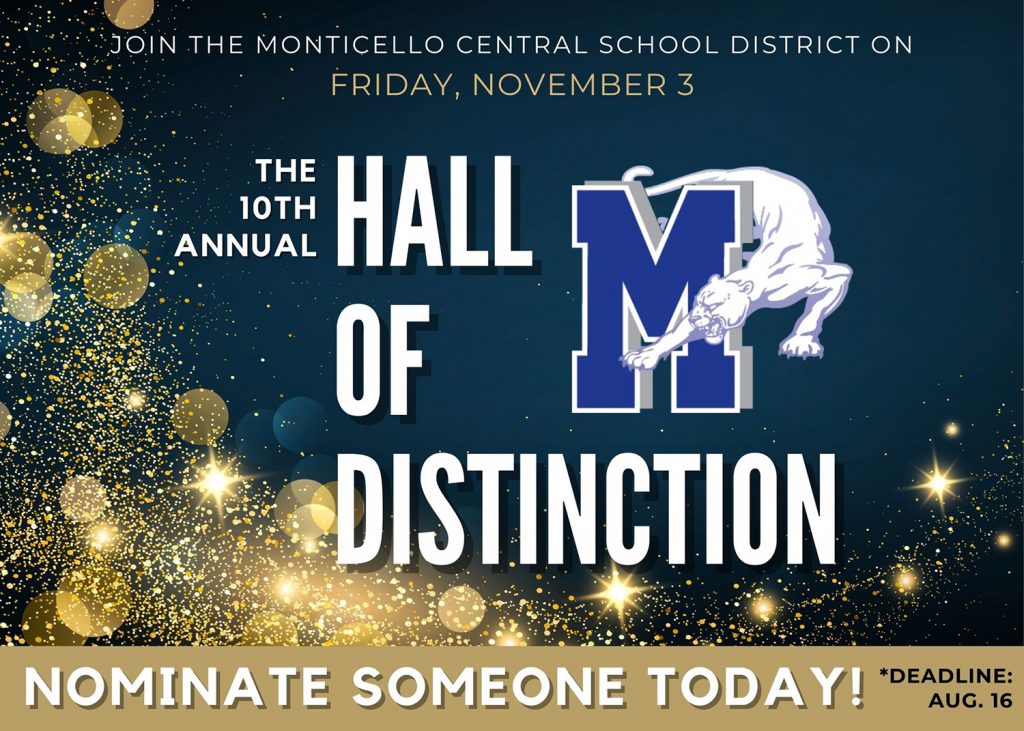 The Monticello Central School District is currently accepting applications for nominees for the district's tenth annual Hall of Distinction ceremony, which will take place on Friday, Nov. 3.
The Hall of Distinction honors highly successful Monticello alumni, former board of education members and past employees who have achieved distinction, outstanding accomplishments or made significant contributions within their school, family, career, community and/or personal lives. It was established during the 2012-2013 school year and is located in the lobby outside of the Arnold Packer Hughs Auditorium in Monticello High School.
"The Monticello Central School District has always provided a strong educational foundation that has prepared many of our alumni to accomplish notable successes after graduation," Superintendent of Schools Dr. Matthew Evans said. "The Hall of Distinction is a wonderful opportunity to recognize these remarkable individuals, and to serve as an inspiration to our current students that they too are capable of achieving great things."
All applications will be thoroughly reviewed by the district's Hall of Distinction Committee. If an individual has previously submitted a nomination, they do not need to resubmit. All nominations are on file and will be considered. The deadline to nominate someone is Wednesday, Aug. 16.
Once inductees are selected, they'll be notified directly via email. MCSD will also announce this year's nominees through its website and social media channels, press releases and ParentSquare.
If you have any questions about the Hall of Distinction or the nomination process, please contact Natalie Rowan, Public Information Specialist at nrowan@k12mcsd.net.
Information on the district's last Hall of Distinction ceremony can be found here.