At its June meeting, the Monticello Board of Education held its semi-annual "Board Award Ceremony," to recognize staff and students who exemplify excellence and a commitment to the Monticello Central School District community.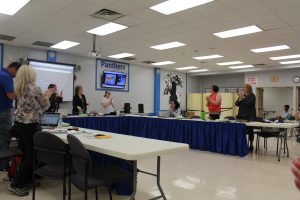 Just prior to the beginning of the ceremony, the Board presented 2018-19 student board member, Molly Garcia, with a certificate and a standing ovation in recognition of her service and dedication over the 2018-19 school year. 
The June 6 meeting was the last board meeting for Molly, who has spent many of the Thursday nights of her senior year seated at the table. Throughout her time as a student representative, she has earned a reputation for being a fierce advocate for the student body of the Monticello Central School District and a veritable human calendar of events, keeping the Board informed and invited to all of the happenings throughout the district.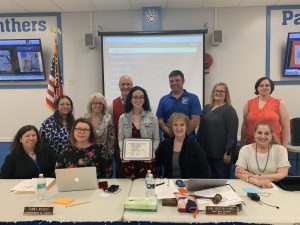 After she graduates in just a few short weeks, Molly will continue her educational career at Elmira College. 
Read on to learn more about the Board Award recipients, as described by their nominator(s):
Mr. Stephen Matuszak
Nominated by Sarah Kozachuk,  RJK Middle School  Assistant Principal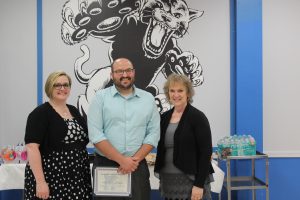 Steve Matuszak is a team player who has embraced his role as an Administrative Intern with an open heart and an open mind. In his capacity as an Administrative Intern, Steve consistently demonstrates integrity when working with students and their families. He has enthusiastically embraced the role as test coordinator at RJK Middle School where he collaboratively worked with his colleagues to bring them professional development.  Additionally, he generated testing schedule and actively served on the District Computer Based Testing Committee. Steve has been involved in many facets of Summer Learning Academy planning and preparation.
In his 13 year career at Monticello, Steve has coached basketball, volleyball and softball, and taught summer school in addition to his regular teaching duties. He has made lasting connections with his students who come back to visit him often.
He is approachable, positive and professional in all that he does. We look forward to supporting him in his future endeavors.
Ms. Nicole Larkin
Nominated by Jason Doyle, RJK Middle School Asst. Principal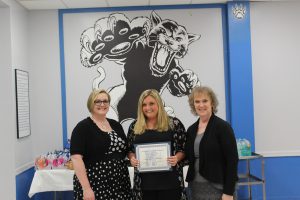 In September of 2018, Nicole Larkin joined our team at RJK and has worked to find her niche. Her friendly, outgoing personality has helped her to form positive relationships with both students and staff. In her role as an ENL co-teacher, she successfully works with a myriad of colleagues to provide the best education for the students at RJK.
Ms. Larkin has taken a leadership role in facilitating professional development opportunities for her peers. She provided information about Part 154 Regulations as well as best practices for second language learners. Additionally, Ms. Larkin has played an active role during the ENL monthly team meetings. RJK team meetings, and new teacher orientation.
Ms. Larkin works diligently to meet the needs of her ENL students. Nicole supported students district wide during ENL NY/TELL and NYSESLAT Testing, traveling from building to building to ensure each student had an appropriate testing environment. She has gone above and beyond in creating an ENL Summer Boot Camp to provide an enriching experience for her learners in July.
Ms. Yesenia Kreeger
Nominated by Christopher Palmer, Cooke Elementary Principal, Melanie Hector and Kim Gordon Cooke Elementary Asst. Principals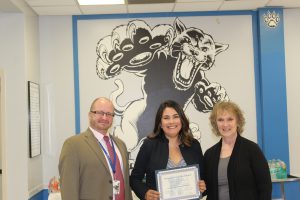 Mrs. Yesenia Kreeger is a compassionate educator and a goal getter.   Her classroom is a streamline of positive interactions between all who enter the space.  Upon entering the classroom, one will find the students actively reading, researching, quietly discussing, creating, and writing about the learning target and goals of the day.  Mrs. Kreeger's passion to ignite her students' desire to learn is infectious.  She invests time in each student to really know what they are about.  This allows her to guide them to be successful as they pursue their learning goals.  One of the ways this occurred this year was through a writing submission to the Young Writer's Spooky Sagas Contest.  Out of 12,000 + entries, 16 of the George L. Cooke 5th grade student entries were chosen for publication.  Recently, Mrs. Kreeger organized the George L. Cooke participation in the Opening Day event at the Kartrite Water Park that the school district had been invited to. Under Mrs. Kreeger's leadership, the students participated in a science lesson that which was an excellent opportunity for our students to realize how science relates to every day experiences.  In addition, Mrs. Kreeger's passion for reading can be found in her working in multiple way with Scholastic, to build a classroom library filled with highest quality subjects and appropriate reading levels to challenge the students as they work toward reaching their goals. 
We are very thankful that Mrs. Kreeger is part of the George L. Cooke Faculty and family.  Her positive outlook, involvement, and impact is felt by more than those in their classroom.  We celebrate her dedication and desire to help students, colleagues, and community, reach their goals as she works toward reaching her goals.
Ms. Lauren Siegel & Colleen Belgiovene
Nominated by Christopher Palmer,  Cooke Elementary Principal, Melanie Hector and Kim Gordon, Cooke Elementary Asst. Principals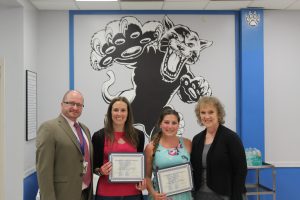 Lauren Siegel and Colleen Belgiovene are compassionate educators and Goal Getters.  Together, they share a passion for providing high quality instruction and student learning.  Their classroom is a well-organized and exciting space for children to learn and grow.   Throughout the day you can see both teachers working with students and providing the appropriate challenges for all students in their room to explore, learn and grow.  Ms. Siegel and Mrs. Belgiovene are always willing to support their colleagues.  They open their classroom to fellow teachers to come visit as they model lessons and instructional practices.  Both have been trained in Orton-Gillingham and utilize this training in their small skills groups to assist the students in reaching their goals.  Beyond the classroom, Ms. Siegel is involved in the Sunshine/Spirit Committee and the STARS Mentoring program.  Her participation in both help support her colleagues, and the Cooke School community at large, reach their goals.  Mrs. Belgiovene participates as a member of the ELA committee and is a building representative for the MTA.  In both of these roles, Mrs. Belgiovene leads and supports her colleagues and the Cooke School community to reach their goals.
We are very thankful that Ms. Siegel and Mrs. Belgiovene are part of the George L. Cooke Faculty and family.  Their positive outlook, involvement, and impact is felt by more than those in their classroom.  We celebrate their dedication and desire to help students, colleagues, and community, reach their goals as they work toward reaching their goals.
Mr. Joel Reyes
Nominated by Brian Warming, Building Maintenance Supervisor              
Joel's work ethic and attitude are second to none. He continually goes above and beyond what is expected. I have worked alongside Joel for 13 years, and his hard work and dedication has been an inspiration to our whole department. Joel wears many "hats", whenever support is needed in any of our department's tasks, Joel is there to make sure things are done safely and correctly. I have received many thank you emails from people across our district wanting to relay their thanks for the fine job Joel has done. For these reasons, I proudly nominate Joel Reyes for this award.
Jake Kelly, Adam Cavello, Dylan Price, Connor Foss
Nominated by Debi Levine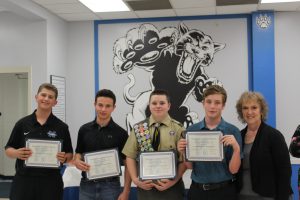 Becoming a Boy Scout in this day and age is not an easy choice to make. What with all the distractions of the modern world, teenagers are pulled in many directions. At risk of being targeted as "not cool" by many of their peers, it takes a special kind of young man to choose scouting.
Jake Kelly, Adam Cavello, Dylan Price and Connor Foss not only made that choice, but also achieved the rank of Eagle Scout, an accomplishment earned annually by only 4% of the entire membership of the Boy Scouts of America.
These boys demonstrate every day to their classmates, family, friends and the community at large, their commitment to physical fitness, good citizenship, and good personal character and, above all, the importance of doing service for others.
Michelle Bryant, Sarah Shamah, Eliana Raynor, Julia Simonetti, Nicole Lavere and Sydney Lemmerman
Nominated by Dana Taylor, Director of Special Programs and Jackie Beamer, Supervisor of Special Programs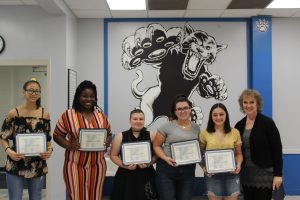 These students have taken the lead on making MHS a kinder, more accepting place to be. Not only have they been active in attending meetings for the No Place for Hate Committee they have been involved in creating and implementing school wide activities such as the Wall of Barriers activity, Cultural Night, Mix it Up Lunchroom activity and bringing in speakers such as Robert Jackson and Michael Malesky
They have also been instrumental in gathering information and ideas from neighboring school districts regarding improvement in school culture and climate. May we all have the kindness, courage and resilience in our hearts these students demonstrate.