New York State Commissioner of Education Mary Ellen Elia will speak to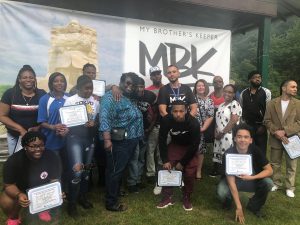 student leaders from Monticello Central School District's My Brother's Keeper Program (MBK) during the inaugural "MBK Fellows and Friends Retreat" to be held at the Honor's Haven Resort in Ellenville, New York on Aug. 28 – 29. Commissioner Elia is expected to speak at 9 a.m. on Aug. 29. She will be joined by other state leaders, authors and speakers, including Assistant Commissioner for the Office of Access, Equity and Community Engagement Services, Dr. Anael Alston, Regent Young, Regent Finn and renowned speaker and author of the book "Madd Truth," Dr. Alfonso Wyatt.
The MBK program is a nation-wide initiative dedicated to improving the lives of young men of color by eliminating opportunity and engagement gaps. It was established by former president Barack Obama in 2014, and in 2016, New York State became the first state to enact the MBK initiative into law.
The grant-funded Monticello MBK program officially kicked off in the 2017-18 school year and in that short time period, has evolved into a comprehensive program that provides youth in Monticello opportunities, experiences and resources to build decision-making skills, develop leadership capacity and be empowered to make a positive change within themselves and their communities. Monticello MBK participants have visited the African-American History Museum in Washington, D.C. and various colleges, participate in a wealth of after-school enrichment and academic programs and have taken an active role in increasing the program's reach and impact, with some of the older students taking on a mentoring role towards the younger ones and acting as community ambassadors.
"Fellows and Friends" was spearheaded by the Monticello MBK team and will be the first retreat of its kind in the state. More than 30 "fellows," or MBK student leaders, from all corners of New York State will attend and participate in book studies, presentations and workshops, accompanied by mentors and program staff.
"It's a great chance for the young men to collaborate, see each other in positions of leadership and join together in fellowship," Monticello MBK Coordinator Mike Regan said. "New York is the first and only state to adopt this program as a state-wide initiative. They are leading the way in ensuring equitable access to education and opportunities for all students. They truly care about our kids."