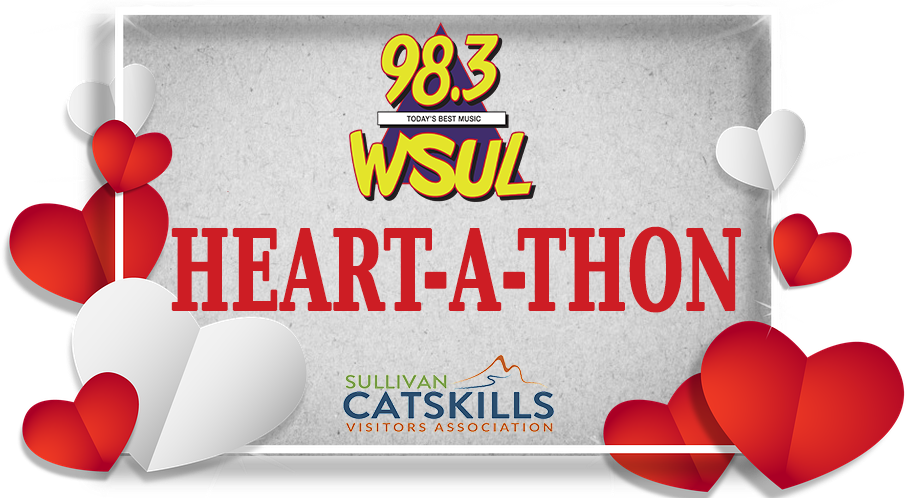 Friday, February 19, 2021          6AM – 6PM
We are Going Fully Virtual This Year!!
A message from Monticello Interact Advisor, Stephanie Byrne:
Friends,
I know this has been a hard year for many.  We also know that heart disease does not take a break or stop when other ailments start.  It is a constant and, in the US, someone has a heart attack every 40 seconds. We need your help to ensure that when (not if) it happens to someone in Sullivan County, our hospital is ready to treat them with the most advanced equipment available. 
This year will mark the 43rd Annual 98.3 WSUL Heart-A-Thon. Proceeds from this event again benefit the Garnet Health Medical Center Catskills Cardio-Pulmonary Department and will be used to purchase an Echocardiogram system.  100% of the funds raised stay right here in the Sullivan Catskills.
With many of us not shopping or dining out as we did a year ago, our traditional ways for asking for support may not be enough to purchase the needed equipment. 
WE NEED YOUR HELP!
Our organization, Monticello Interact, is assisting in the effort to raise awareness and funds to help fight heart disease in Sullivan County.  I am asking you to follow this link and make your donation to this year's Heart -A- Thon.  For every $500 raised by our organization, we will receive an entry into a drawing to win $1000 (thanks Jeff Bank!) for our club to use for our own projects in our community. 
https://www.givegab.com/p2p/98-3-wsul-heart-a-thon-3c265099-0450-414e-a56b-425787225618/monticello-high-school-interact-monticello-rotary
If you would rather donate by check, please contact me so I can arrange to pick up the check, or you can drop it off to my attention at the Monticello High School main office.. 
The 98.3 WSUL Heart-A-Thon has raised upward of $2million over these many years toward the purchase of equipment for Garnet Health Medical Center Catskills and we need your help to continue this great work.
Please contact me if you have any questions, would like more information or to make a pledge over the phone.
Thanks for your support of our organization and the Garnet Health Medical Center Catskills!
Regards,
Stephanie Byrne
Monticello Interact Advisor
Co-Chairs
Sims Foster
     Foster Hospitality
Jay Quaintance
     SUNY Sullivan
Board of Directors
Dawn Ciorciari
Jennifer Desrochers
Al Frangipane
Jodi Goodman
Les Kristt
Rick Lander Ex-Officio
Jacquie Leventoff
Helena Manzione
Lori Orestano-James
Gary Siegel
Committee
Roberta Byron-Lockwood
Paul Ciliberto
Denise Frangipane
Perry Gips
Lee Karasik
Alan Kesten
Krissy Walsh
Shane Phillipy
Sponsor: