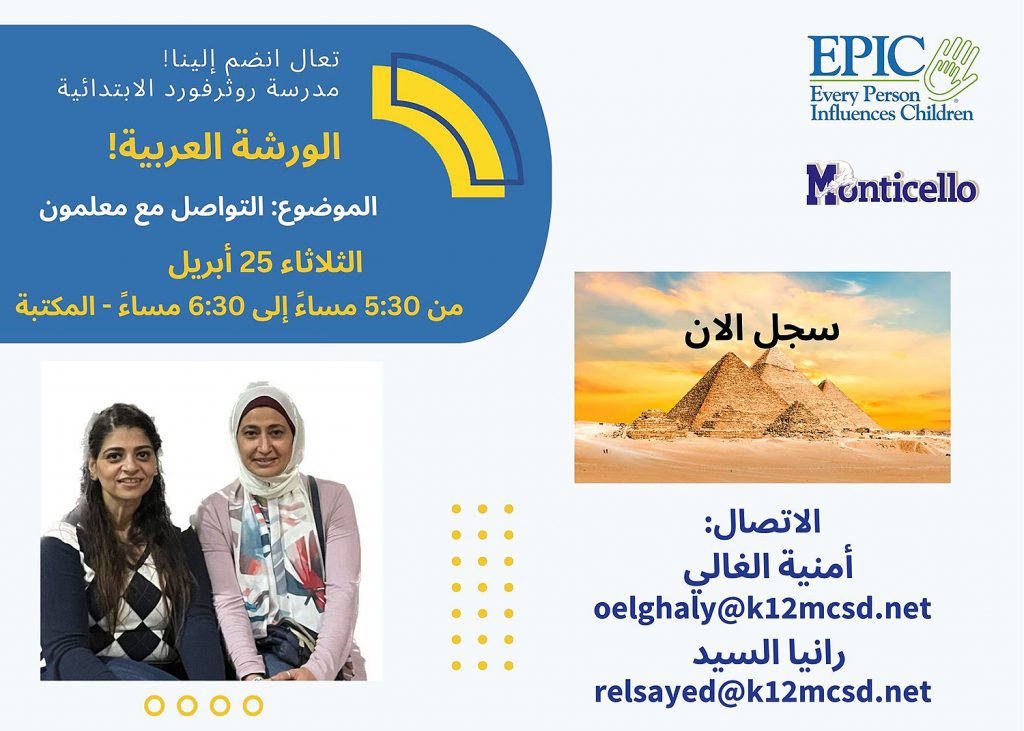 سيستضيف برنامج "كل شخص يؤثر على الأطفال" (EPIC) ورشة العمل الأولى باللغة العربية لعائلات مونتيسيلو في مدرسة كينيث إل روثرفورد الابتدائية يوم الثلاثاء 25 أبريل من الساعة 5:30 مساءً إلى 6:30 مساءً.
ستناقش العائلات موضوع "التواصل مع المعلمين".
تستضيف الورشة أمنية الغالي ورانيا السيد.
الحدث مجاني ، لكن التسجيل مطلوب. يرجى إرسال بريد إلكتروني إلى أمنية الغالي على oelghaly@k12mcsd.net أو رانيا السيد على relsayed@k12mcsd.net للتسجيل.
اعرض نشرة الفعالية باللغة الإنجليزية.
اعرض نشرة الفعالية باللغة العربية.
---
The Every Person Influences Children (EPIC) program will host its first workshop in Arabic for Monticello families at Kenneth L. Rutherford Elementary School on Tuesday, April 25th from 5:30PM to 6:30PM.
Families will discuss the topic of "Communicating with Teachers."
The workshop will be hosted by Omnia Elghaly and Rania Elsayed.
The event is free, but registration is required. Please email Omnia Elghaly at oelghaly@k12mcsd.net or Rania Elsayed at relsayed@k12mcsd.net to register.
View the event flier in English.