It's time to get silly with Seuss. During the month of March, we want you to go mad for READING! The challenge begins March 1  and ends on March 25.
Here's how to participate:
Complete 5 in a row (across, down or on a diagonal) of the activities in the chart below and turn in your sheet (check your child's backpack) for a prize. Complete ALL of the activities to be entered in a raffle to win one of EPIC's Dr. Seuss-themed gift buckets. Raffle prize winners will be announced at Cooke's Family Literacy Night after spring break.
After you complete the activity, color the box in
You may read a book from school (Open Court), a book from the library or a book from home. Family members can read to you, too.
Return your sheet by Friday, March 26 before spring break with a parent or guardian signature.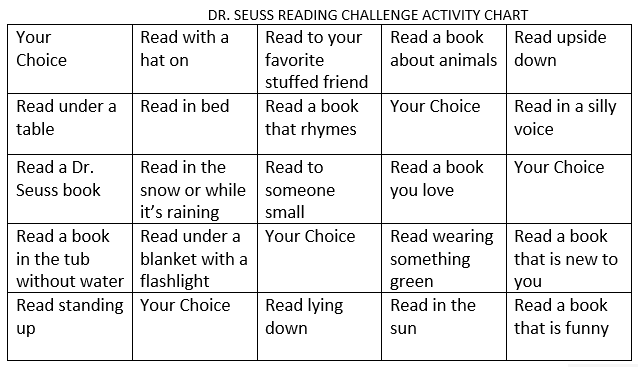 Watch a commercial for the reading challenge: