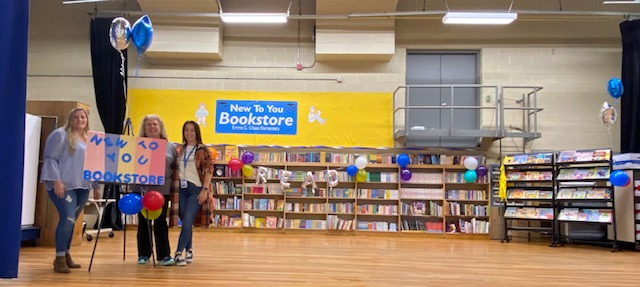 Assemblies at the Emma C. Chase Elementary School are back in person and what better way for School Librarian Patricia Andersen to unveil the "New To You Bookstore"? 
It took many hours of hard work to relocate the "New to You Bookstore" to its new location on the gymnasium's stage. Trista Fello, Mary Bruno and Lisa Iovino cleaned off the stage, transferred all the books to the new location, and sorted them into categories for the students.

Students can either trade a book or pay a quarter to purchase a book. 
Fourth and fifth-grade students run the bookstore in the mornings, walking younger students down to the store and collecting money or books. 

Last

year, the bookstore earnings totaled $270. The students in last year's third-grade class voted to donate the bookstore's earnings — $270 — to the St. Jude Children's Hospital and the backpack program at Chase, which provides students at risk for hunger with a backpack filled with food each Friday. 
Mrs. Anderson encourages the students to read often and to participate in the Cross County Reading Challenge, where students throughout the county compete to see which school can read the most books. At the time of the assembly, Chase was in the lead for the challenge.