At its March 28 meeting, the Monticello Central School District Board of Education honored individuals and groups who have demonstrated a significant commitment to the District and its students during the spring Board Awards. Read on to learn, in the nominator's words, why these team members make Monticello's future brighter. 
Marie Schall
Nominated by Monticello High School Principal, Stephen Wilder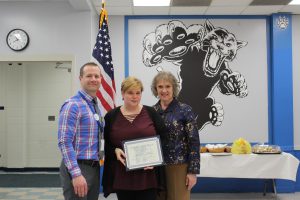 Marie Schall is one of our most valuable contributors at Monticello High School.  Anyone who knows her well and works with her understands this to be true.  She has a quiet, consistent, meticulous, and conscientious approach to her work that is without fanfare, bells, or whistles and yet we all still notice because her actions are powerful and meaningful.  
To begin, Marie is our Regents Scanning Professional which requires long hours of diligence and attention to detail during what can be a chaotic and stressful time of year.  Her presence is one of poise, patience, kindness, and deliberateness.  She has worked hard to learn all of the different aspects of, and benefits to, the Regents scanning process.  She is well versed in the available reports used to support instructional review and reflection as it relates to student learning.  
Marie is also our teacher who has been serving the students assigned to our after-school Out-of-School Suspension program for many years.  She works to assist our students in providing the support and structure necessary to allow for a successful transition back into their daily academic program.  In addition, Marie welcomes any and all students that request additional academic assistance during that assigned time.
In her classes, Marie works to meet that needs of all students by knowing where they are and bringing them forward to meet course and graduation requirements.  She is a skilled special education teacher who is well respected by her peers and successful in both inclusion and self-contained settings.  She differentiates her instruction and approach based on her awareness of her student's current level of performance, learning and social-emotional needs.  Marie is never concerned with whether a student is on her caseload or in her classroom.  She focuses on supporting and caring for every student she comes into contact with.
Marie is a valued member of the Monticello team and family.  Her reliable collaboration and steadfast kindness toward others helps to make Monticello shine.  Her actions are in keeping with the high expectations we have for our professionals in the Monticello Central School District.
Megan Murray
Nominated by: Christopher Palmer, Cooke Elementary School Principal and Melanie Hector, Cooke Elementary Asst. Principal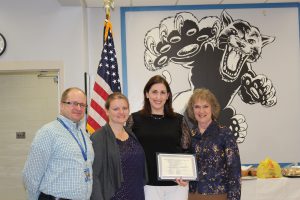 Megan Murray is an LIA teacher connected to the 4th Grade, and serves as the 4th Grade Level Leader for George L. Cooke.  Ms. Murray can be found working with students throughout the day providing instructional support for those who need that additional time to master the material.  She is tenacious about each of her students reaching their learning goals.  She speaks kindly in her encouragement as she holds each student accountable for their own learning. 
 As the Grade Level Leader, Ms. Murray is always looking for the greatest collaboration opportunities.  Her passion for helping students reach their greatest potential is endless.  She encourages and leads her colleagues to look at data to make decisions that will help support student growth and academic achievement.   Ms. Murray is always looking for alternative ways to deliver the curriculum so the students remain engaged and willing to participate.  Her positive connections with students are inspirational and infectious.
Ms. Murray can be seen in the morning greeting students near the entry way with her warm smile as they make their way to class with their breakfast.   Likewise, she can be seen outside during dismissal every day, wishing everyone a great evening as they enter their buses.
We are very thankful that Ms. Murray is part of the George L. Cooke Faculty and family.  Her positive outlook and impact is felt by more than those in her classroom.  We celebrate her tenacity and deep caring.
Ms. Christine Cavello
Nominated by: Christopher Palmer, Cooke Elementary School Principal and Melanie Hector, Cooke Elementary Asst. Principal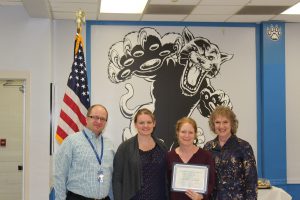 Christine Cavello is a tenacious, compassionate, educator.  Her deep passion for providing her students with the highest quality instruction and guidance to reaching, and exceeding their learning goals is always in the forefront of her classroom experience.  This year Mrs. Cavello has risen to a new and exciting learning opportunity that includes teaching the visually challenged.  Mrs. Cavello has consistently exhibited collaboration, communication, responsibility, all themes from this year.  Taking time to meet and collaborate with the vision specialist and the teacher aide has provided many opportunities for the team to enhance the learning opportunities of all students in the Cooke School.  Mrs. Cavello's inclusive style, coupled with her constant encouragement, has lead the way for the students in her classroom to be the positive examples of how to be the best support for each of their classmates.  No matter where they are in the building, Mrs. Cavello's class displays kindness and acceptance.  Her leadership has inspired the students to take care of their peers and to celebrate their differences.
We are very thankful that Mrs. Cavello is part of the George L. Cooke Faculty and family.  Her positive outlook and impact is felt by more than those in her classroom.  We celebrate her tenacity and deep caring.
Ms. Ann VanEtten, Ms. Patricia Yorks, Ms. Tavi Bockman and Ms. Ann Marie Kurthy 
Nominated by William Frandino, Emma C. Chase Elementary School Principal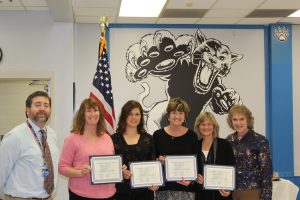 Ann Van Etten, Patricia Yorks, Tavi Bockman, and Ann Marie Kurthy are the four teachers that organize and provide high quality intervention support services for students at Chase elementary. 
Mrs. Van Etten is the primary provider for grades 1 through 3. 
Mrs. Yorks provides leveled instruction for all in grades 4, 5 and K.
Mrs. Bockman is our literacy specialist attending to many students that qualify for Tier III support in reading.
Mrs. Kurthy is the Chase elementary Instructional Coach and leader in processing assessment data to make decisions about students and support instruction. Part of this assessment process includes facilitating response to intervention meetings, implementation of various instructional programs, and selection activities for choosing new programs.
All of these individuals operate with incredible flexibility in order to coordinate with teachers, other providers, lunch, specials and such to make use of instructional time outside of core classroom instruction. Additionally, because of the frequent collection of and regular monitoring of assessment data these teachers are a strong resource for the use of data in making instructional decisions.
Ms. Allison Billias, Ms. Cathy McFadden, Ms. Terice Jackson-Seitel, Ms. Christine Foster, Ms. Sharon Cabrera, Ms. Kelly Johnson, Ms. Kimberly Murphy, Ms. Denise Leung and Ms. Elizabeth Nicoletti 
Nominated by Michelle Knowlton, Rutherford Elementary School Principal and Douglas Murphy, Rutherford Elementary Asst. Principal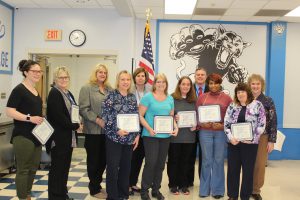 My LIA Team is Awesome!  This team of hardworking and dedicated individuals collaborate regularly with classroom teachers to improve our students reading and math skills.  This team is made up of special education, reading, elementary education teachers and teaching assistants, they have brought new and exciting approaches and programs, like Orton-Gilingham, Seeing Stars, and Wonders to the kids at Rutherford Elementary.   Valuable members of the RTI team, these ladies constantly are working together to find the right approach for each child. We would not be making the academic gains  at Rutherford without this awesome team.  
Karen Warden
Nominated by: Nick Millas, RJK Middle School Principal and Tanya Duryea,          Director of PPS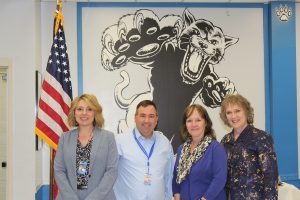 Karen is an amazing person who has been with Monticello Central School District for a number of years as a School Psychologist.  She has overcome obstacles with such strength and tenacity that amazes her colleagues and supervisors.  She is a role model for dedication and loyalty to our district.  Karen is not afraid to speak up when she feels a student has needs and is a true advocate for supporting student's academics and social/emotional needs.  She has championed our RTI improvements with making recommendations that are student centered.  Her leadership and guidance with Rachel's Challenge getting off the ground this year and yielding the stipends to other staff members demonstrates her selfless professionalism for the sake of a positive school culture and climate.  Karen is retiring at the end of this year and we thank her for being there for so many students over the years.
Jesse Hinton, Renee Wilson, DeShawn Hines, Eric Young, Cecil Allen, Shannon Daniel, Robbin Dockery, Dennis Martin, David Pharr, Jimmie McKinnon, Ashley Raynor and Randalpho Simms, Noah Moreno and Ulijah Reynolds
Nominated by Michael Regan, School Social Worker and My Brother's Keeper Coordinator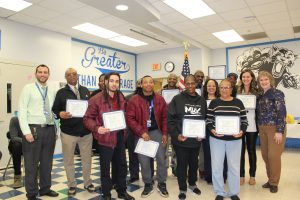 In 2014, Former President Barack Obama launched the My Brother's Keeper initiative to improve outcomes for boys and young men of color, and to ensure that all young people can reach their full potential. In 2016 New York State Education Department became the first state to enact the My Brother's Keeper initiative into law. Monticello Central School District is one of the schools who has accepted the challenge and was awarded the MBK grant based on the need in our community. Since launching our MBK program last school year, My Brother's Keeper has grown into an inspiring movement filled with positive outcomes for our children, families, school, and community. 
All of the great things happening in My Brother's Keeper would not be possible without the dedicated team of professionals who devote their lives to making a positive impact on our students and community. Each and every day, this team works hard to ensure that our children in MBK are provided with outstanding opportunities to learn, grow, and thrive on their journey towards becoming life ready adults. In just one year this team have successfully demonstrated the ability to improve outcomes for our MBK students, including a 15% improvement in student attendance, 25% growth in GPA's, 66% growth in course passing rates, 58% reduction is suspensions, and a 74% reduction in violent incidents. 
Together this team makes all things possible for our students. From offering them volunteer, civic-engagement, and leadership opportunities, empowering them to become student mentors, providing them platforms for self-advocacy and public speaking, to meeting and networking with world leaders, including Former President Barack Obama; our team makes it all happen as a result of their hard work, dedication, and commitment to our young people. Most importantly they never give up. Even when our students make mistakes and times get hard, our MBK staff continues to be the steady force that lifts them up and shows them the way towards a brighter future.  
The My Brother's Keeper staff have creating an atmosphere of belonging and acceptance for our students, who often describe the feeling of being a family as their favorite part of MBK. If you ever ask the youth impacted by MBK, they will likely tell you the same thing. Testimony from the My Brother's Keeper students speaks for itself, including this one:
"I have improved in many ways since joining MBK. Things have gotten better for me. I am getting good grades now so I can fulfill my dreams and get a scholarship to a good college. My favorite thing about My Brother's Keeper is the adults never give up on me no matter what problems I'm having. It has helped me to look at my life and my future more deeply. They love every kid no matter what, they always love you."
Mr. John Burkhalter
Nominated by Nicholas Millas, RJK Middle School Principal and Tanya Duryea,  Director of PPS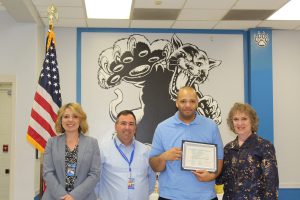 John Burkhalter is a one to one Aide for one of our visually impaired students.  He has been by her side since her first day in Monticello Central School District.  He has formed a special bond with her and goes that extra mile every day.  His kindness and empathy allowed her transition into a new school to be a positive one.  John stays late to support her participation in afterschool clubs and activities.  John and his student can be seen walking together in the hallway or sitting in the iHelp café having friendly banter or debating topics.  Their mutual respect and appreciation for one another is obvious in these exchanges.  He is a friendly face in the building and has formed special bonds with the teachers who are elated by the level of teamwork and support he shows them.   John is on his way to completing his coursework and certification as a certified Teacher for the Visually Impaired.  Our hope is for John to continue to work with Monticello students in some capacity as he exemplifies the work ethic and standards we value.
Ms. Anita Kientzler  
Nominated by: Stephen Wilder, Monticello High School Principal 
Anita Kientzler is a conscientious and dedicated special education teacher aide.  She is caring and reliable working with her assigned students, responsive and supportive working with her colleagues and supervising teachers, and takes the initiative to support the entire school with tasks whenever available.  She does this all with a service mentality and heart.  She is a terrific team member who goes above and beyond while contributing regularly to helping others.  Her attitude and effort are valuable to helping make Monticello High School a great place to work and learn.
Anita's actions are in keeping with the high expectations we have for our professionals in the Monticello Central School District.
Ms. Maria Bova, Ms. Kayla Stacchini and Ms. Carmenza Castro                                                         
Nominated by Christopher Palmer,  Cooke Elementary School Principal, and Melanie Hector, Cooke Elementary Asst. Principal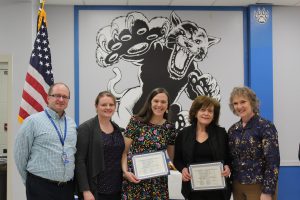 The Cafeteria staff at Cooke Elementary School are simply amazing.  Ms. Bova, Ms. Stacchini and Ms. Castro come in every day with the necessary tenacity to feed the nearly 600 students that attend George L. Cooke.  The positive energy and kind, caring, approach by this kitchen staff is admirable.  From the sound of the pots and pans, to the exciting smell of what is cooking, the kitchen is always a place to find some down home goodness.
An extra special thanks to the kitchen staff on our delay and flex days.  On these days, the kitchen goes into over drive in order to be ready for the students looking forward to the meals they prepare.  The kitchen staff is incredibly responsive to the needs of the students.  They are responsible in the way they present the food offerings and keeping track of students with allergies.  
 We thank the George L. Cooke Kitchen staff for their professionalism and deep caring of the students and staff.  Without you, the building would be bland.  Thanks for bringing the spice!
Molly Garcia
Nominated by: Stephen Wilder, Principal Monticello High School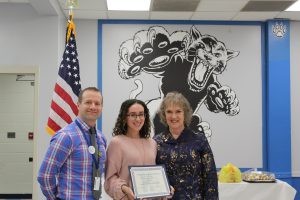 Molly Garcia is receiving this nomination for her exceptional attitude, effort, and achievement that is beyond her years.  Molly has demonstrated unyielding resilience and determination when faced with adversity since coming into the high school her freshman year.  She has been steadfast and resolute in standing up for herself and refusing to be a victim of circumstance.  Her courageous effort led to not only a resolution that benefited herself but an improved school experience for others.  She continues to be an advocate for herself and others which is a civic skill that is necessary to continue to make our communities stronger. 
As Student Council President, Molly continues to learn about her role and responsibility for service, representation, and advocacy.  She demonstrates responsibility in the execution of her duties while working to think of creative solutions to the issues and challenges she is presented with.  Her respectful and confident disposition, whether representing MCSD students at Board of Education meetings or collaborating with school administration, is admirable. 
On the fun scale, Molly gets high marks here, too.  She can be found performing in our Monti Idol competitions, entertaining the crowd with her energetic musical talent.  Molly is always involved in our Spirit Week activities and helps contribute to building positive school pride.  When other clubs or Class cohorts need help with their activity she is always willing to give a helping hand.
Lastly, Molly is a responsible and deliberate learner who has excelled in her courses.  She contributes meaningfully in her classes and is genuinely interested in challenging her thinking to grow.  Molly is an all-around exceptional student and person.  I am excited to see, and hear about, the incredible impact that she is certain to have on the world.
Sofia Heimowitz
Nominated by: Stephen Wilder, Principal Monticello High School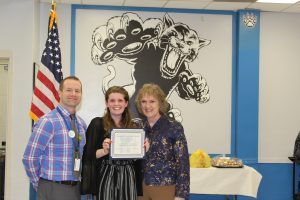 Sofia Heimowitz is receiving this nomination for her special contributions to the Monticello High School community and her noteworthy academic achievements.  Sofia has the kind of courage and presence that most people live their whole lives without harnessing.  Over the past two years Sofia has channeled her life of experience of losing her brother to suicide into a cause and call to action to help those who are contemplating self-harm while equipping others to provide support.  She has delivered powerful messages to our school community during assemblies on this topic and is impacting the lives of hundreds of people through her message.
Sofia has also contributed to our school community as a captivating performer in our musical and drama productions.  Her dependable and persistent work ethic results in her stage presence and singing looking natural and effortless.  Sofia's performances are a joy to experience while being an uplifting presence for the rest of the cast and crew.
In the classroom, Sofia is a diligent learner who has excelled in her courses.  She earned the NYS Academic Scholarship Award for her achievement on specific Regents examinations and is set to graduate near the top of her class.  She contributes meaningfully in her classes, has been an encouraging voice to her peers, and is willing to help anyone to perform at their best.  Sofia is an exceptional student and person.  I am excited to see, and hear about, the incredible impact that she is certain to have on the world.