Earlier this year, students in Don Waddell's Wood 2 class created birdhouses as one of their first project. Now, months later, they are wrapping up some much more complex projects as they hone their woodworking skills.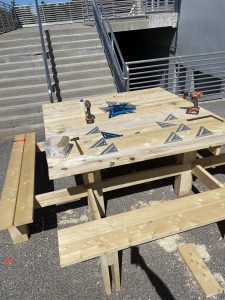 The students saw a quadratic picnic table online, and thought it was an interesting idea, but noted that it was poorly designed. So, they worked together – with absolutely no help from Mr. Waddell – to improve upon the design, ultimately building an enormous table that will seat around 20 students.
In addition, students have finished 10 wood picnic tables for the Wurtsboro Fire Department.
What's in store next for the students? In the immediate future, the tech classes will celebrate their accomplishments with a field trip to Six Flags. In the more long-term future, culinary arts, auto tech and construction. We can't wait to see what they accomplish next!