Pastor Linda Abraham is grateful for the blessings in her life, both big and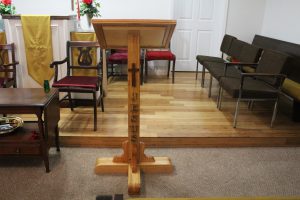 small. Recently, she and the congregants at the Unity Mission Temple Church here in Monticello received a gift from a group of Monticello High School students that stunned them.
"Our podium was in such bad shape," said Abraham, whose church shares space with the Pentecostal House of Prayer at 6 Holmes Street.
That is an understatement according to Don Waddell, who teaches Design and Drawing for Production and Structural Engineering at Monticello High School. Waddell said Abraham heard the class was building Adirondack chairs and came by to buy one. In conversation she mentioned that she had seen a podium the class had fixed for another pastor and that her podium was in need of repair. Waddell and his class took it on, but there were some surprises.
First, they were amazed at how much repair was needed.
"It was in terrible shape," said Waddell. "It would be a real challenge."
But then came the better surprise. This was not your average piece of furniture.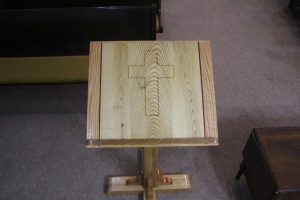 "This was not a production piece," Waddell said. "This was made by a skilled craftsman at least 60 years ago."
When the students started removing the finish, they could see the beauty of the wood and appreciate the quality of it. Someone else might have just thrown it out because of its condition; Waddell is glad that Abraham asked his class to fix it.
The students jumped at the chance to work with such a substantial piece of furniture, made of white oak. They didn't take any easy path either. "They always took the path that would make it look the best," Waddell said.
They added several pieces of wood to the podium, always keeping with the original design.
"When an antique comes to you, you try to stick with that basic plan," Waddell said. He showed them how to redo certain things but they were the drivers of the project. In addition to the woodworking experience they got, it was also a lesson in problem solving and working as a team.
"They never let up. They were excited about the project, eager to see the change day after day," Waddell said.
They added a cross on the front made of maple with pieces of mahogany, teak and red and white oak. They also laser engraved a cross into the top of it.
The result? A beautifully restored antique that will be used for generations.
"Everyone in the church was so stunned," said Abraham. "We were astonished that these kids would take so much time and put so much love and care into this for our community. Words can't ever express our gratitude. I am so proud."
As is Waddell.
"I told these kids this is a significant piece of work. People are going to get married in front of this podium; there will be funerals with families gathered around it," said Waddell. "This is something that people will use and enjoy long after we are all gone."