Congratulations to the Monticello High School Trap Team on a great fall season! For more photos, please visit the team's Facebook page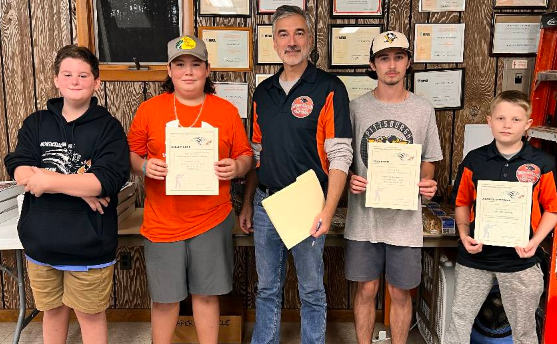 Coach Jay Mendels shared these updates from the team's award party:
Congrats to this season's award winners:
Team MVP – Jake Hovis – Team hi avg 22.1, Team high game 24 (4×), Team hi series 48
Most improved this season – Mason McGinnis
Most Improved over last season – Dillon Cole – 20.6 vs 14.6
Coaches' Award – Noah Fitzpatrick (This award is given each season to recognize the student athlete we feel best represents an outstanding attitude and perseverance, enthusiasm for the sport, and dedication to the team. Way to go Noah!)
Other notable achievements:
While we didn't have anyone make it into the 25 club this season, we did have a record number of 24s recorded during our match nights: Jake Hovis (4x!), Dillon Cole (2x!), Caleb Hovis and Will Reilly
100% attendance to every range day: Liam Brasington, Caleb Hovis, Mason McGinnis, Will Reilly, Dan Weyer, and Evan Weyer
Chase McFarland improved his average by 3+ points from last season!
Kenny Walz improved his average by 4+ points from last season!
Varsity-Level Shooters: Jake Hovis 22.1, Chase McFarland 20.8, Dillon Cole 20.6, Will Reilly 20.3, Caleb Hovis 19.7
JV-Level Shooters: Kenny Walz 17.8, Dominic Giorgianni 17, Aiden Schnitzer 16.8, Liam Brasington 15.4, Alex Decker 15.4
Thank you to the students, parents, and volunteers who helped make this season great! See you in the spring! 
If anyone is interested in getting onto our waiting list for the spring season, please email monticellotrapteam@gmail.com.  Must be a Monticello student, grades 6-12 and age 12+.  No prior experience necessary.