Fall 2021 class registration at SUNY Sullivan is now open. Join SUNY Sullivan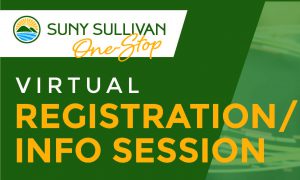 for virtual registration/information sessions every Tuesday at 3:30 p.m.
To access a session:
tinyurl.com/sunysullivanregistration; or
call in: 646-558-8656
Meeting ID: 957 6808 2172
Passcode: 949686
Enjoy individualized help with Fall 2021 class registration and ask any questions you may have about the admissions process, financial aid, or any other  SUNY Sullivan related topic.
There will be plenty of SUNY Sullivan staff on the call to help you including  enrollment specialists Naquan Holman and and Frank Sinigaglia, and advisors from the One-Stop learning center. You'll be able to access more information regarding SUNY Sullivan, including how to get registered for classes and officially enroll at SUNY Sullivan.
One-on-one virtual appointments are available.  Schedule a free video consultation.
SUNY Sullivan offers face-to-face instruction, residence halls, athletics and student activities. Distance learning, night classes, child care services are also available.
To apply to SUNY Sullivan, contact admissions@sunysullivan.eduCurrent students can reach out to learningcommons@sunysullivan.edu.