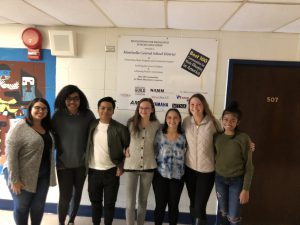 Seven Monticello High School students have been chosen to perform in the New York State School Music Association's (NYSSMA) Zone 9 Area All-State Festival Concert, which will take place at Suffern High School on Saturday Nov. 23, 2019.  
The NYSSMA Zone 9 Area encompasses all of Greene, Orange, Rockland, Sullivan and Ulster counties. In order to receive an invitation to perform in this concert, participating students undergo a competitive audition process that requires dedication and hard work.  
The roster of Monticello students is below:
The Area All-State Symphony Orchestra will include Sasrika Rajan, Violin 1; Amelia Gleyzer, Viola; and Sophia Quinones, Double Bass (students of Nancy Wegrzyn).
Area All-State Symphonic Band includes Sarah Shamah, flute, Dana Kurthy, flute and Elizabeth Granados, bass clarinet (students of Andrew Verdino)
Christopher Samaniego will be in the Tenor 2 section of the Mixed Chorus (student of Marissa Jurow).