*una traducción en español está debajo*
What is SchoolMessenger?
SchoolMessenger is an online tool that allows school districts to send out phone calls, emails, or text messages to the parents or guardians of students. As long as the parent or guardian's email address or phone number is on file with the school district, messages will be sent to those phone numbers or email addresses. These typically include school closings, delays, attendance calls, and other types of calls. Please note that phone messages may come from unfamiliar numbers. 
What is the SchoolMessenger App?
The SchoolMessenger App allows parents to listen to phone messages that were sent to them, and to view texts and emails that they received. Additionally, their contact information can be viewed, and notification preferences set, allowing parents to choose which channel they prefer to receive messages via: (phone, email, text, or all of the above).
When downloading the app: Choose the one called "SchoolMessenger" (it has a blue icon, see image below).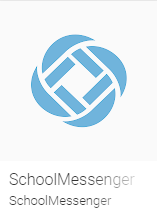 There is also a "SchoolMessenger Admin" app with a yellow icon. This app is meant for staff members who will be sending the messages. Do not download this one.
If signing up through the app: Upon opening the app, click the "Sign Up" button. Then enter your email address that is on file with the school district, and create a password. Click "Sign Up". You will then be sent a verification email. Simply click the link in the email, log in to the app within 24 hours, and your account setup will be complete.
You can then log in to the app, view messages from the past 30 days, and edit your preferences to configure how you would like to receive notifications. To edit your preferences, click the menu link in the upper left corner, it will display a menu. Select the Preferences link, and you will see what contact info you have for phone, email, and text. You can add more as needed.
Should you have any questions or issues you can call the main office of your child(s) school.
¿Qué es SchoolMessenger? o (el Mensajero Escolar)
SchoolMessenger es una herramienta en línea que permite a los distritos escolares enviar llamadas telefónicas, correos electrónicos o mensajes de texto a los padres o tutores de los estudiantes. Siempre que la dirección de correo electrónico o el número de teléfono del padre o tutor esté archivado en el distrito escolar, los mensajes se enviarán a esos números de teléfono o direcciones de correo electrónico. Por lo general, estos incluyen cierres de escuelas, retrasos, llamadas de asistencia y otros tipos de llamadas.
¿Qué es la aplicación SchoolMessenger?
La aplicación de SchoolMessenger permite a los padres escuchar los mensajes telefónicos que se les enviaron y ver los mensajes de texto y correos electrónicos que recibieron. Además, se puede ver su información de contacto y establecer preferencias de notificación, lo que permite a los padres elegir el canal que prefieren para recibir mensajes a través de: (teléfono, correo electrónico, mensaje de texto o todo lo anterior
Al descargar la aplicación: Elija la que se llama "SchoolMessenger" (tiene un icono azul).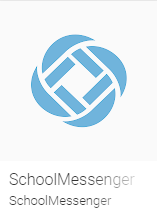 También hay una aplicación "SchoolMessenger Admin" con un icono amarillo. Esta aplicación está destinada a los miembros del personal que enviarán los mensajes. No descargue este.
Si se registra a través de la Aplicación:
Al abrir la aplicación, haga clic en el botón "Registrarse". Luego ingrese su dirección de correo electrónico que está registrada en el distrito escolar y cree una contraseña. Haga clic en "Registrarse". A continuación, se le enviará un correo electrónico de verificación. Simplemente haga clic en el enlace del correo electrónico, inicie sesión en la aplicación dentro de las 24 horas y la configuración de su cuenta estará completa.
Luego puede iniciar sesión en la aplicación, ver los mensajes de los últimos 30 días y editar sus preferencias para configurar cómo le gustaría recibir notificaciones. Para editar sus preferencias, haga clic en el enlace del menú en la esquina superior izquierda, se mostrará un menú. Seleccione el enlace Preferencias y verá qué información de contacto tiene para teléfono, correo electrónico y texto. Puede agregar más según sea necesario.
Si tiene alguna pregunta o problema, puede llamar a la oficina principal de la escuela de su hijo.