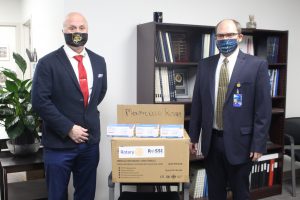 As the COVID-19 pandemic continues to rage on, masks have become a ubiquitous part of daily life. However, procuring enough masks, which play an integral role in limiting the spread of the coronavirus, can pose a challenge for many. That's why the Rotary's Million Mask Challenge aims to donate an impressive 1,000,000 masks throughout the country — an embodiment of the organization's mission of "Service Above Self."
Rotary District 7210 donated a total of 175,000 masks for the region it covers, with 12,000 of those masks going to various youth and civic organizations in Sullivan County. The Liberty, Livingston Manor and Monticello clubs delivered these masks (which included 1,500 youth masks and 420 KN95 masks) to not-for-profits, small businesses, first responders and school districts throughout the county. 
President of Monticello's Rotary Club and Board of Education Trustee Todd Grodin delivered nearly 1,000 masks to the district's central office on Tuesday, Jan. 19. The masks will be distributed amongst the district's schools and also the Comfort Closet, which supplies personal hygiene products to Monticello students in need.