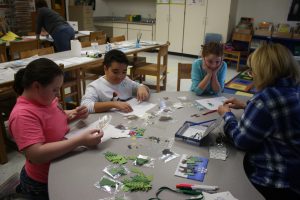 With all five of Monticello's schools receiving the "Good Standing" designation from the New York State Education Department, the Monticello Central School District has officially been named as a district in "Good Standing" under the New York State Every Student Succeeds Act (ESSA).
The NYSED released the results of these new accountability measures on Jan. 17, after a two-year-long data gathering process.
"I am pleased with our results from the ESSA," Superintendent Tammy Mangus said. "They show the effectiveness of our amazing team and the progress we have made."
ESSA replaces No Child Left Behind, and these designations are the first indication from the state of how schools are performing based on the new measurements of academic success under ESSA. These designations are based on student data from the 2017-18 school year compared to baseline data from 2016-17. These comparisons were used to establish growth targets for the next five years.
Districts received their preliminary designations for each school and the district in November 2018 from NYSED. Districts were given the opportunity to appeal the designations.
For each school, the state determined an accountability status for each of 10 student subgroups based on their performance across seven indicators. These subgroups' designations, in turn, determine the school's overall accountability designation. The accountability designations are: Good Standing, Targeted Support and Improvement (TSI) and Comprehensive Support and Improvement (CSI).
Similarly, a district's status is determined by the designations given to the same 10 subgroups for the district as a whole. However, if any one school in a district is not in Good Standing, the district cannot receive a designation of Good Standing, even if all of the districtwide subgroups are in Good Standing.
Later this spring, the state will identify high performing or rapidly improving schools as Recognition Schools and Recognition Districts.
Seven Indicators
The seven indicators used to measure student performance, participation and progress are:
Composite Performance (Elementary, MS, HS);
Student Growth (Elementary, MS);
Academic Progress (Elementary, MS, HS);
Graduation Rates (HS);
English Language Proficiency (Elementary, MS, HS);
Chronic Absenteeism (Elementary, MS, HS); and
College, Career and Civic Readiness (HS). 
93% of parents agree: parental involvement is effective at MCSD
In addition to the positive results of these seven indicators, the district also scored well on its NYSED parental involvement survey.
According to the NYSED website, the goal of this survey is to determine the percentage of parents with a child receiving special education services who report that schools facilitated parent involvement as a means of improving services and results for children with disabilities. In Monticello, 93% of respondents agreed with statements suggesting a high level of effective school-parent engagement.
"This is a district comprised of innovative educators, administrators and professionals who have intentionally worked to build a system of  academic and social/emotional supports to ensure that each and every Monticello student reaches his or her full potential," Ms. Mangus said. "Those of us who work with our students have the privilege of witnessing firsthand how these supports have had a positive impact on our kids, and these evaluations confirm that this holistic approach has had a tremendous influence on academic growth and achievement."