On May 28, Monticello High School No Place for Hate (NPFH) Committee ended off a school year filled with "firsts" with a school-wide assembly featuring two different speakers designed to educate students on the consequences of hateful and harmful behavior, while empowering them to make wiser choices.
"Being your best self doesn't just mean achieving personal accolades," MHS Principal Stephen Wilder said. "It also means being your best in terms of how you treat other people. Today, we're learning about the errors of others and how we can come out stronger from it."
Hate is Not Welcome Here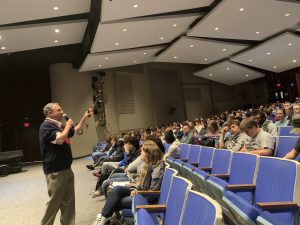 Former educator and school administrator Michael Melasky illustrated the impact that hateful speech and symbols can have, using a personal experience of anti-Semitism as the foundation of his presentation, "Hate is Not Welcome Here." In 2016, just two days before Yom Kippur –the most solemn holiday in the Jewish faith– a Jewish cemetery that Mr. Melasky oversees in Florida, New York was desecrated with Nazi imagery and anti-Semitic slogans.
Using his background as a humanities teacher, Mr. Melasky educated students on the origins of various hate symbols that have been used throughout history to terrorize, intimidate and oppress marginalized groups. Putting these symbols into historical context, he then spoke of the tremendous impact that the desecration incident had on the community, particularly for those with relatives –some of whom had survived the atrocities of the Holocaust – buried in the cemetery. He then spoke of the community's journey to healing after the desecration. Closing out the presentation, he challenged students to speak up and speak out in the presence of bigoted speech and remarks and also offered tips and ideas on how students can become advocates for positive change.
"We are social beings and it can be difficult to confront others," Mr. Melasky said. "But when you stay silent, it's the same as giving people permission to continue with their rhetoric. Usually, when a person is confronted about bigoted speech, they will stop. You may not necessarily change their heart, but they will most likely stop spreading this type of speech."
Internet Safety and Social Media Awareness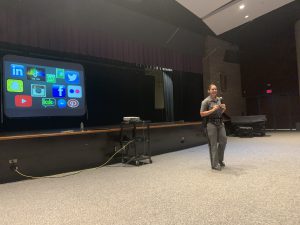 During her presentation on internet safety and social media awareness, New York State Trooper and School Community Outreach Coordinator Esther Suarez spent considerably more time highlighting typical predatory behavior online than she did highlighting specific social platforms.
"It doesn't matter what [social media platform] is popular at the moment," she said repeatedly. "Predators always adapt with the trends to try to find ways to communicate so that they can get access to teens."
She explained how predators use a combination of manipulation, flattery, grooming and then later, blackmail to gain the trust of, and control over, victims. She then reviewed specific red flags for students to watch for as they navigate their digital social life.
Trooper Suarez also spoke of the consequences of improper behavior on social media and advised students to be very cautious in the type and amount of information that they share online. She used real-life examples of the impact of such behavior, such as sports teams disqualified from championships for online banter or scholarships and job offers rescinded after a student's offensive language or behavior surfaced online.
"I'm here today to equip you with the knowledge that you need to make good decisions so that you can be sure that you don't get caught up in things that you shouldn't get caught up in," Suarez said. "You need to stay mindful of the words that come out of your mouth and also mindful of your actions."
A banner year for NPFH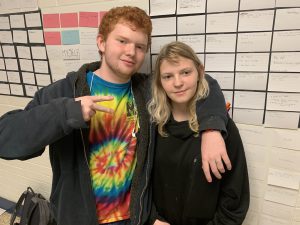 This dual assembly marked the end of the NPFH Committee's inaugural year, and its final activity of the 2018-19 school year. From its first meeting in January of 2019, this group of students, staff and community members has worked  to ideate, coordinate and organize activities to enhance students' understanding of diversity, bias and social justice through a series of active learning projects. The organization hopes to eventually earn the "No Place for Hate" designation from the Anti-Defamation League.
Aside from the May 28 assembly, the committee has also organized:
A visit and presentation from author Robert Jackson, followed by a "Wall of Barriers" activity
A "Culture Night" where various community and school organizations set up displays highlighting different aspects of their respective cultures and communities.
 A "Mix it Up" lunch activity where students were encouraged to expand their social circles by eating lunch with new peers.
A year-long grant for free access to genealogical records on ancestry.com for Monticello staff and students.
"I've said before that meaningful change cannot happen in a vacuum – it takes an intentional, community-wide effort, and that is exactly what the No Place for Hate Committee is," Superintendent of Schools Tammy Mangus said. "I am grateful for the community members, staff and especially students who have led this movement in making Monticello a kinder place, and I am excited to see this initiative continue to grow next year and beyond."