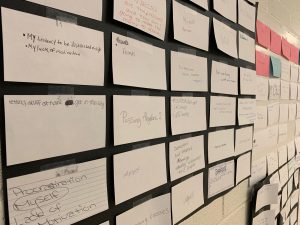 Bricks are tough to break, but paper is easy to tear. That's why the newly-erected "Wall of Barriers" at Monticello High School is made out of index cards rather than rocks. The brainchild of the Monticello High School (MHS) No Place for Hate committee (NPFH), the "Wall of Barriers," located just outside of the main office at the high school, is a collection of index cards – each one containing a goal and a self-identified barrier to that goal of an anonymous MHS student.
The "Wall of Barriers" project kicked off in February of 2019 with a presentation from nationally acclaimed motivational speaker Robert Jackson. Mr. Jackson spoke to the students about the challenges he faced as a child and young man, and the tools and strategies that he used to overcome those challenges and achieve his goals. After the presentation, students returned to their classrooms for a period of self-reflection, where they considered their short and long-term goals and what barriers are preventing them from succeeding in their quest to achieve their goals. Each student then anonymously wrote his or her goal on one side of an index card, and the self-identified barrier on the other.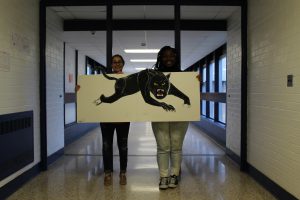 NPFH members collected the cards and over the next few months worked to create a display with each index card serving as a "brick" in the "Wall of Barriers." In May, the "wall" was erected in one of the high school's hallways, with the barrier side of the card visible. Many barriers appear multiple times. Some barriers are lighter ("X-Box) than others ("My Home Life"). None of the barriers are unbreakable.
As students meet their goals and break their personal barriers, they are invited to remove a card from the wall that bears the same, or a similar challenge. The NPFH committee hopes that students will be reassured to learn that they are not alone in their struggles and inspired by the goals of their classmates, as well as the sight of the rapidly disappearing "bricks" from the wall.
Watch a video about the Wall of Barriers