The Monticello Central School District has just been honored with the Best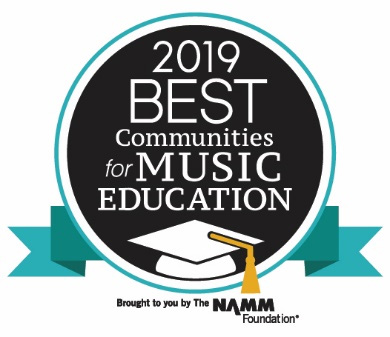 Communities for Music Education designation from The NAMM Foundation for its outstanding commitment to music education for the ninth time. 
To qualify for the Best Communities designation, Monticello's music department detailed information about funding, graduation requirements, music class participation, instruction time, facilities and support for the program. Responses were verified and reviewed by the Music Research Institute at the University of Kansas.
"Monticello continues to be a leader for music education here in the Mid-Hudson Valley in New York State, and, as this designation shows, across the country," said Superintendent of Schools Tammy Mangus. "We are so blessed to have strong, dedicated music professionals who consistently inspire our music scholars to learn, grow and make beautiful music. Indeed, as Confucius said, 'If one desires to know whether a kingdom is well governed, if its morals are good or bad, the quality of music will furnish the answer'."
This award recognizes that Monticello Central School District is leading the way with learning opportunities as outlined in the Every Student Succeeds Act (ESSA). ESSA states that music and the arts are important elements of a well-rounded education for all children.
"I am proud to lead a talented, hard-working faculty of music educators that care tremendously for our students' success," said Nancy Wegrzyn, department instructional lead of Monticello's Performing Arts. "I am also humbled to work with a supportive and inspiring community of parents, administrators and leaders that help break down the barriers to student achievement."
Music has been shown to help students in numerous ways. Research into music education continues to demonstrate educational/cognitive and social skill benefits for children who make music. Research has found that participants showed more substantial improvements in reading scores and in how the brain processes speech than their less-involved peers and that students who are involved in music are not only more likely to graduate high school, but also to attend college as well. And the benefits last a lifetime.
Monticello boasts a strong Performing Arts program that includes concert band, wind ensemble, string orchestra, chorus, dance, theater, chamber music and singers, jazz, guitar, piano, technology and classroom music as well as other unique opportunities such as AP Music Theory, Music History and a chapter of the Tri-M National Music Honor Society (subsidiary of NAfME). 
Students from MCSD have gone on to study at some of the world's finest colleges, music schools and conservatories like Juilliard, Mannes, Berklee, Purchase and Eastman. Former students are employed in various roles in the music industry, including at the Metropolitan Opera in NYC and the New York Philharmonic, and as educators, music therapists, performers and specialists in numerous areas of the discipline.
Now in its 20th year, the Best Communities for Music Education designation is awarded to districts that demonstrate outstanding achievement in efforts to provide music access and education to all students.
The NAMM Foundation (www.nammfoundation.org) is a nonprofit supported in part by the National Association of Music Merchants and its approximately 10,400 members around the world. The foundation advances active participation in music making across the lifespan.