Article courtesy of Today's Students, Tomorrow's Teachers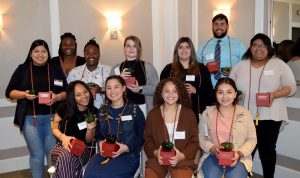 Nearly twenty five years ago, Dr. Bettye H. Perkins founded the Today's Students Tomorrow's Teachers Program. This organization recruits and trains culturally diverse and economically challenged students in high school, and supports them through college to become dedicated, effective teachers, and committed leaders.
TSTT opens doors to students who might not otherwise attend college, providing financial assistance, as well as mentoring and encouragement as they pursue a path to education. This program provides career development workshops, tutor training, job shadowing, college guidance and visits, summer internships, college mentors, job placement assistance and more.
In order to honor and recognize the hard work of the all who make the program work, the Annual Recognition Brunch was recently held at Bernie's Holiday Restaurant. The ceremony includes gratitude to the districts for their ongoing support, appreciation to the mentors who work tirelessly to implement the programs in the schools, and recognizes the seniors who have completed the program with a green apple, and a set of TSTT cords to wear at graduation.