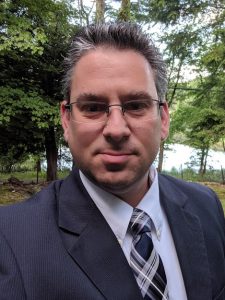 At its Nov. 7 meeting, the Monticello Board of Education appointed Sandy Wagner as the Director of Information and Technology, effective Dec. 16. He will replace Executive Director of Technology Shelley Rossitto, who is retiring after nearly two decades in the position.
In his new role, Mr. Wagner will oversee the development, implementation and use of technology throughout the district, working with district staff to assess and address user and instructional practice needs. It's a multi-faceted, essential role that not only includes many traditional IT duties and responsibilities, such as managing networks, data, security and infrastructure, but also encompasses ensuring that Monticello students have access to the most effective instructional technology tools to enhance learning, while educators have the skills necessary to support these tools.
Mr. Wagner brings an extensive array of experience with him, spanning from classroom educator, to director of technology to district administrator. He holds a BA of English Literature from CUNY Staten Island, an MS in Education from the University of New England and a CAS in Educational Leadership from SUNY Brockport. He cites several reasons for choosing to join the Monticello team, including the district's reputation in educational technology circles as a leader in personalized learning, data security, and educational practice.
"Shelley Rossitto has done an incredible job in Monticello and it will be an honor to pick up where she leaves off," Mr. Wagner said. "I am looking forward to continuing the great work done in Monticello and continuing to ensure Monticello students have access and skills to use real world technology to meet the Board's mission to ensure that each learner is future-ready. Technology is changing our society so quickly and meeting the challenge to prepare our students for their future is very rewarding work.  Technology has enabled us to understand the needs of our students and provide access to learning in ways never before thought of.  We need to ensure that our schools can deliver this level of technology to our teachers and students effectively, efficiently, and securely."
 "From the networks and programs that enable our day-to-day operations to our security systems to the devices that facilitate learning, technology is the backbone that powers much of what we do here at the district," Interim Superintendent of Schools Dr. William Silver said. "Overseeing such a critical piece of the puzzle requires an agile, future-focused leader who has the expertise and experience to ensure that we are optimizing our use of technology to prepare our students and staff for success.  I am grateful for the outstanding work Shelley Rossitto did during her sixteen years leading the IT department, making Monticello a model for everything from classroom use to cyber security; her shoes will be hard to fill.  But I'm confident that Mr. Wagner's experience and skills will help us continue to provide strategic direction to meet these goals and I welcome him to Monticello."
Aside from the opportunity to take ownership of a technology department of Monticello's caliber, Mr. Wagner is also looking forward to a return to his roots.
 "I grew up in Sullivan County and consider it to be one of the most beautiful places in the country," he said. "I'm excited to be living there again."