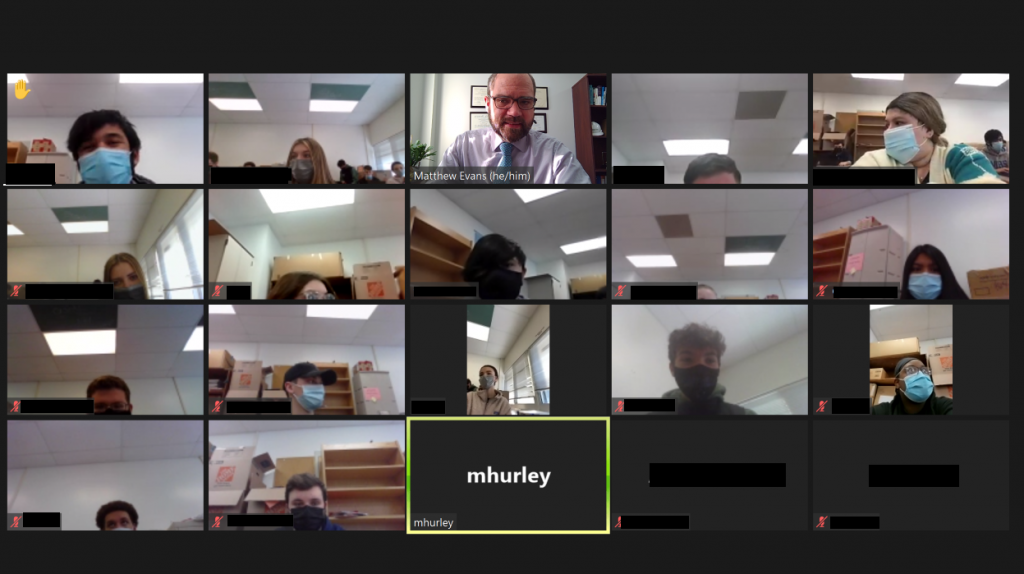 Dr. Evans visited Mary Ellen Hurley's Syracuse University Project Advance (SUPA) classes at Monticello High School on Monday morning, and Mr. Cellini's participation in government class on Friday, to demonstrate how the ongoing litigation concerning mask mandates reflects the constitutional concepts of separation of powers and checks and balances.
He began the presentation with a timeline of the events of the previous week, starting with the January 24 ruling that found the governor's mask mandate to be unconstitutional. Here, he clarified that it was the governor's action of creating an executive order that was deemed unconstitutional and that the ruling did not state that masks could not be required in schools. He then outlined the sequence of events that followed – the New York State Education Department's subsequent guidance of continuing to require masks in schools, the governor's filing of an appeal, the court issuing a stay, and the filing of arguments against the governor's orders in the appellate court.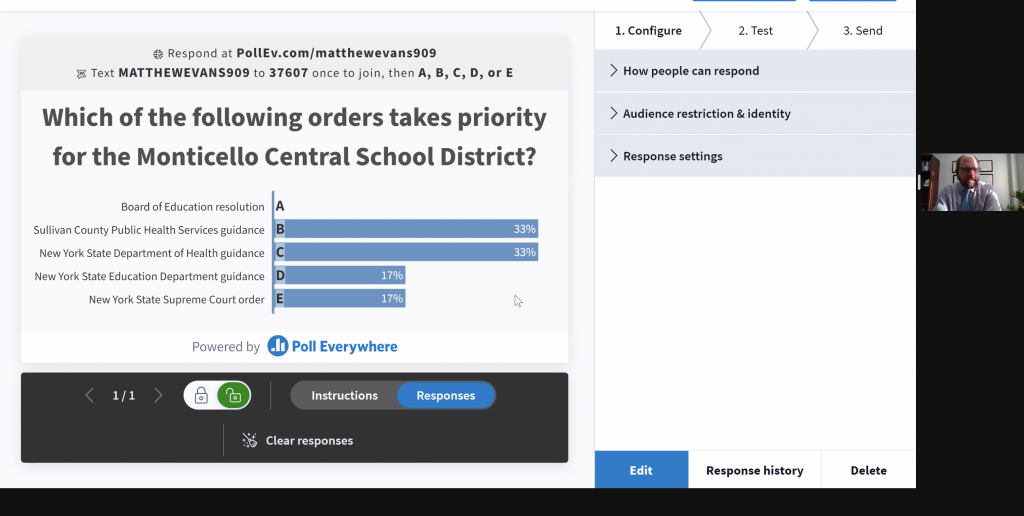 "So, in cases like this where there are conflicting orders and guidance, which one takes priority for the district?" he asked the class, inviting them to guess via an anonymous poll, before answering the question: "It depends." He explained the hierarchy of the various agencies involved and how the NYSED has direct regulatory authority over the state's school districts.  
He then outlined the process of how the district and its attorneys carefully examine and consider the contents of each order, and how words such as "must," "shall," "might" and others can influence the meaning and interpretation of the order, noting that the vast majority of the state's  public school districts continued to require masks in their buildings in the wake of the state supreme court's initial ruling. 
"Once we receive any new ruling, we'll meet with our own attorneys and discuss what this means for the Monticello Central School District," he said.  
Students asked questions regarding the process and the next steps for appeals and additional executive orders.   
"The concepts of checks and balances and separation of powers are not abstract concepts; they play out in real life and impact you as citizens," he told the class. "Soon, you'll be adults with the power to vote and play a role in your state and federal politics."