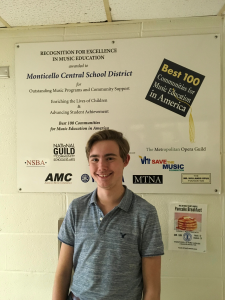 A Monticello High School (MHS) student has been recognized for musical excellence and named to the New York State School Music Association (NYSSMA) All-State music ensemble performance at the annual Winter Festival held in Rochester, NY, on Sunday Dec. 2, 2018. Edward Spear will be singing Bass 1 in the Mixed Chorus. He is a student of MHS Chorus Director Marissa Jurow.
Monticello Central School District has a comprehensive performing arts program that includes Dance, Concert Band, Chorus, String Orchestra, General Music, Jazz, Chamber, Guitar and Piano programs and has been selected by the NAMM foundation as a "Best Community for Music Education" eight times.
Having a student selected to participate in the annual festival of the state's most dedicated music students is an extraordinary accomplishment for the district of Monticello.