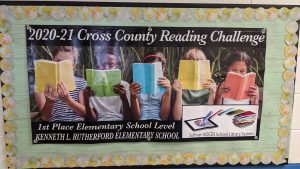 Kenneth L. Rutherford Elementary School earned first place for all elementary schools in Sullivan County by participating in the annual Cross County Reading Challenge, sponsored by Sullivan County BOCES School Library System.
KLR students in grades 3, 4, and 5 worked very hard to read and log a whopping 4,566 books from October through June in their library classes, classrooms, and at home. Students in the fifth grade read the most books overall. 
KLR hopes to remain in first place and defend our title next year! Readers are leaders!