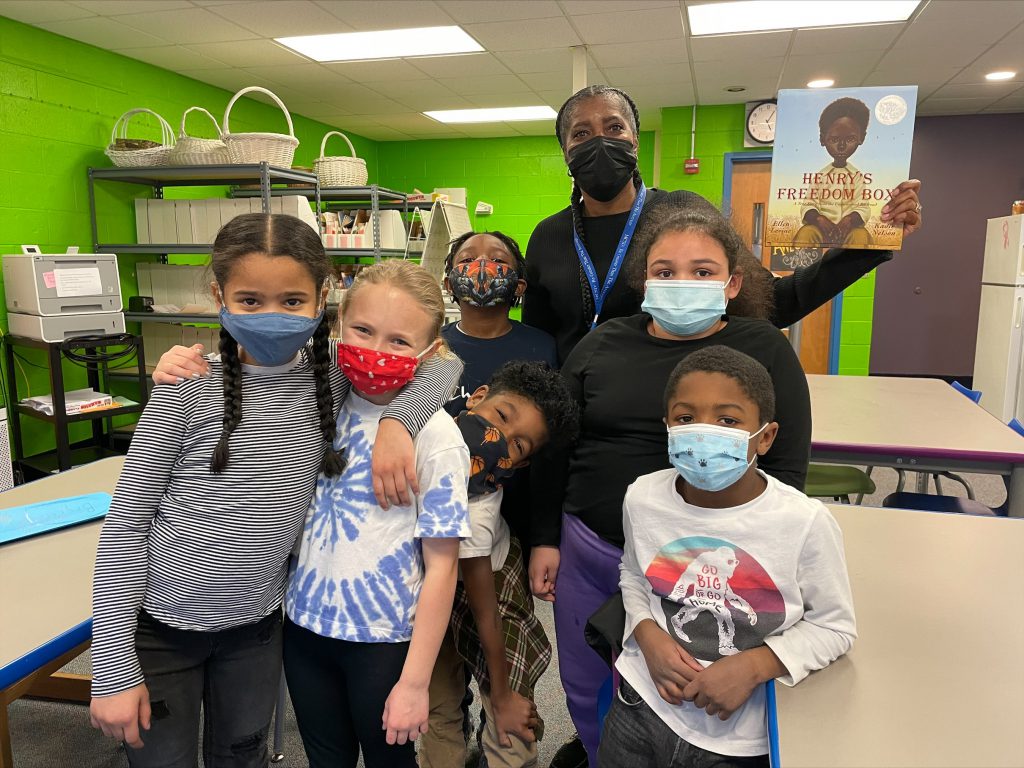 For many young children, a simple  three-hour car ride en route to a family vacation can feel like a constraining, never-ending ordeal. That's why the second-grade students in the Junior Panthers Book Club at the George L. Cooke Elementary School were incredulous to learn that one man spent 27 hours stuffed into a small box in a bid to win his freedom.
The Junior Panthers Book Club is a group of second-grade students who meet weekly after school to read and discuss books. The first book, and the book that the club is currently exploring, is Henry's Freedom Box, a picture book that tells the story of Henry Brown. Henry Brown was an enslaved Black man who hid in a box in 1849 and shipped himself to Philadelphia, thus escaping slavery.
The club, which operates under the umbrella of the district's after-school program as well as the My Brother's Keeper (MBK) program, is an example of how the district is striving to build cultural awareness, and develop social-emotional skills in its students, while also improving reading skills.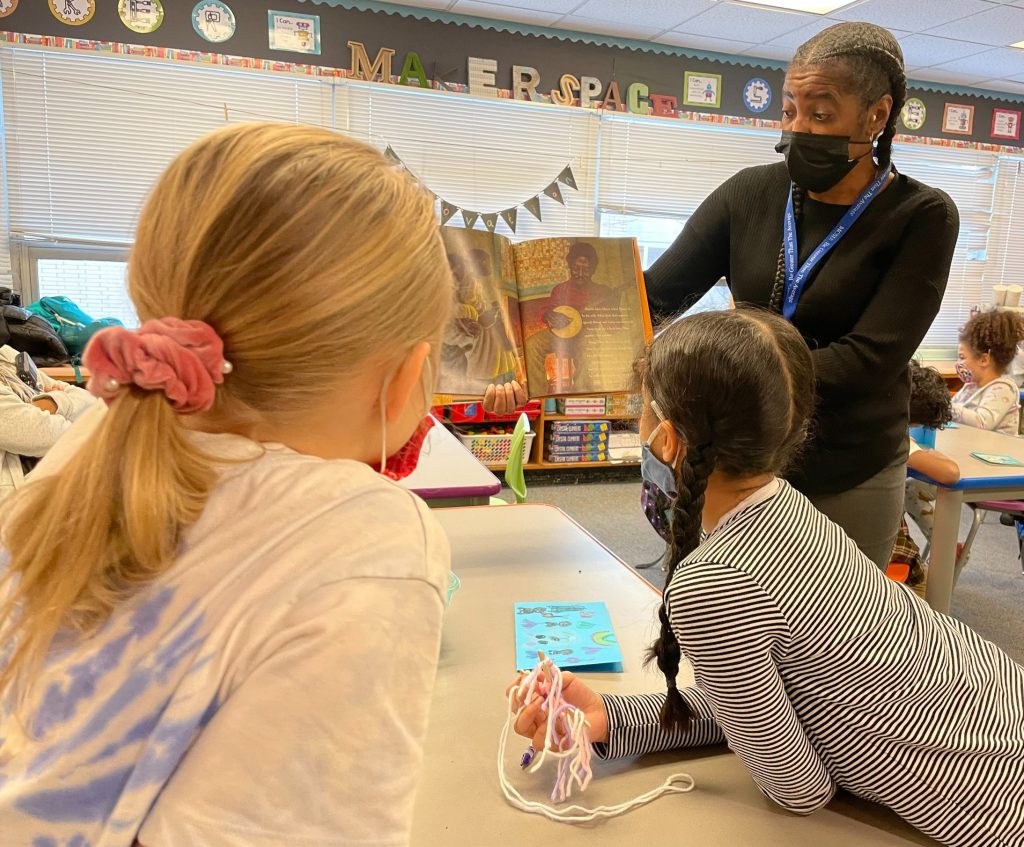 Before opening a single page of Henry's Freedom Box, Shannon Daniel, who works with the MBK program, establishes a sense of camaraderie and autonomy with the students. She asks their input on the name of the club, encourages them to personalize their name tag with artwork that represents their interests and hobbies and leads them in "getting-to-know-you" activities.
"What kind of foods do you all like to eat?" she asks.
The students shout out their answers: burgers, chicken, fries.
One girl holds back, remaining silent.
"What about you? What's your favorite food?" Ms. Daniel presses.
"You probably wouldn't know what they are – the names of my favorite recipes are all in Spanish," the girl responds.
"Well, actually, I do speak Spanish," Ms. Daniel says.
The girls face goes from hesitant to ebullient as she begins excitedly rattling off the names of various dishes in Spanish.
"Students who feel a sense of belonging are students who are highly engaged in learning," MCSD Director of Student Equity Tiffany Hall explained. "That's what's at the crux of the concept of "cultural relevance" – it's asking ourselves if all of our students feel as if they are seen and affirmed in the interactions they have, the books they read and the spaces they occupy. We're striving to build a culture where each and every one of our students feels valued and empowered."
After the students have finished their ice breakers, Ms. Daniel holds up the book and asks students if they've ever heard of the Underground Railroad, or if they know what a slave is.
"A slave is a person who works but they don't want to," one student offers.
"I think I saw a movie about the Underground Railroad," another student says. "There was a woman named Ha…Harry?"
"Harriet Tubman," Ms. Daniel affirms. "That's correct. Harriet Tubman helped a lot of slaves escape on the Underground Railroad. Today we're going to start a book about a slave who escaped, but he didn't use the Underground Railroad. He found a different way."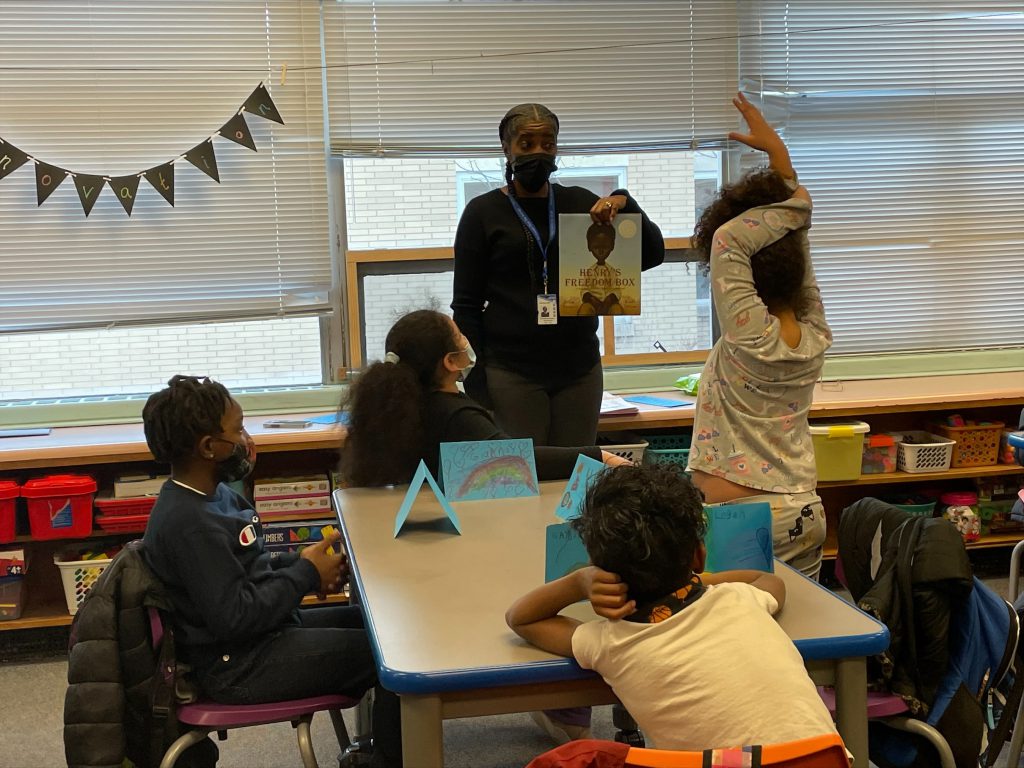 And with that, Ms. Daniel begins to read the story to the group, pausing to clarify vocabulary words or to ask students to imagine and identify what emotions Henry might be feeling as he encounters various challenges and situations. The key takeaways of this particular book for the students is to demonstrate the values of courage and perseverance. The students will continue reading and discussing Henry's Freedom Box over a number of weeks before moving on to other books and materials, that highlight themes such as the difference between wants and needs, celebration of different abilities, self-esteem and relationship building.
Ms. Daniel hopes to develop enthusiasm about reading in the students with the goal of each child reading an additional book of their choice weekly. She also hopes to expand the club into the summer months and collaborate with the local libraries to offer community service learning projects.
"Due to my strong passion for working, educating and connecting with students, I'm very excited to be leading the book club," Ms. Daniel said. "The elementary level is a crucial age for reading fundamentals. I also hold a high regard for the goals and milestones of the MBK program – one of which aligns with the book club: ensuring that all children are able to read by third grade. Finally, it's fulfilling and rewarding to watch the students be so excited to learn about culturally responsive and relevant stories that expand their understanding of the world."