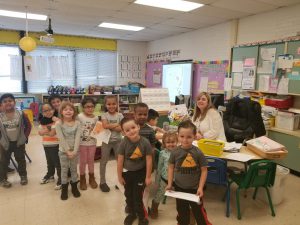 The Mid-Hudson School Study Council (MHSSC) announced George L. Cooke Elementary School Kindergarten Teacher Jennifer Somers as one of the recipients of the organization's "Teaching Excellence Award," which recognizes outstanding educators.
In her letter nominating Ms. Somers for this distinction, Monticello Central School District's Supervisor of Special Education wrote of Ms. Somers' nurturing demeanor and capacity for providing a classroom filled with love, joy and learning.
"She teachers her students in the beginning of the year that their class is a home and that each student brings a unique and special quality to their family," Ms. Gorr wrote. "Student success is built upon not only in individual successes but the class as a whole."
Ms. Gorr also outlined how Ms. Somers tenaciously engaged one particular student who faced numerous struggles in and out of school. Thinking outside the box, Ms. Somers was able to find unique ways to connect with the young student, transforming some of these struggles into teaching tools.  
"Ms. Somers is one of those educators whose genuine love and care for her kids is the driving force behind every action she takes," Superintendent of Schools Tammy Mangus said. "She has built up a classroom culture of kindness and trust, where her students feel safe, supported and eager to learn. She is a prime example of an educator who relentlessly pursues every available avenue to ensure each one of her students is thriving. We are so fortunate to have her on the Monti team."  
Ms. Somers will be honored during the MHSSC's annual business meeting, which will be held on Mary 2 at Anthony's Pier 9 in New Windsor, New York.