Article courtesy of EPIC Family Engagement Program Manager, Jane Sorensen:
Health & Wellness 2023 at Tiny Town: Earth Day Activity – Fidelis Care visits Tiny Town for Healthy Veggies & Planting Activity!
Ruth Stratton, Fidelis Care, Community Relations Specialist visited Tiny Town on Wednesday, April 26.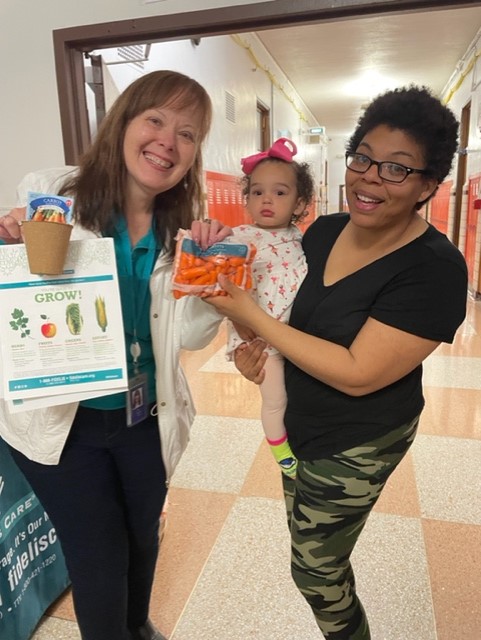 Mrs. Stratton provided informational pamphlets and spoke to the families about healthy veggies. Ruth provided the families giveaway gifts such as planting pots, packet of carrot seeds along with a bag of fresh baby carrots.
EPIC provided a Planting Activity for Earth Day along with a story-time titled: "If You Plant a Seed". Our MCSD Tiny Town kiddos who participated in the petite lima bean planting activity will see their plants grow as they visit Tiny Town daily to care for their plant by watering and seeing it grow.
The snack of the day provided by Fidelis Care was fresh carrots and a healthy veggie dip. All the families who attended Tiny Town received EPIC's healthy veggie dip recipe and a chance to win a free fruit basket from Fidelis Care.
Thank you, Ruth Stratton and Fidelis Care, for visiting Tiny Town.