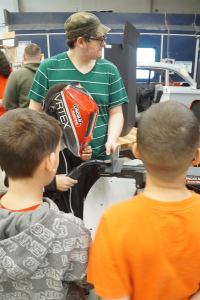 It's not often that you get the opportunity to learn CPR, pet a goat, make a chocolate covered pretzel and sit inside an excavator all in one day, let alone in just a few hours, but School Counselor Molly Messina managed to pull it off. She brought fifth-grade students from the Emma C. Chase Elementary School and the George L. Cooke Elementary School on a field trip to Sullivan BOCES' Career and Technical Education Center where they had the opportunity to explore different career possibilities and the programs that will be available to them through BOCES when they are high school-aged.
Junior and senior students in various trade and tech programs, including animal science, culinary, welding and health science, talked to their younger peers about their experiences in the program and demonstrated some of the skills they've been learning.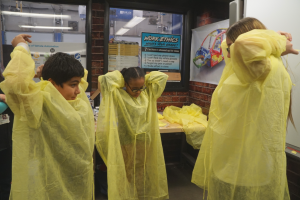 "I wanted the students to have the opportunity to see jobs that they can do that they don't necessarily have to go to college for," Ms. Messina said. "They have the ability to learn a trade in some of these classes."  
In May, Ms. Messina will take the fifth-grade students on a tour of SUNY New Paltz as well as a planetarium show so that students see yet another perspective on the college and career process.