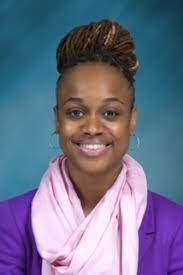 At its Nov. 17 meeting, the Board of Education appointed Yaa Yaa Catherine Whaley-Williams as Director of Student Equity.
Mrs.Whaley-Williams is an ivy-league graduate of Brown University where she earned a BS in Business Economics and Africana Studies as a first-generation college graduate. She also holds two master's degrees in Secondary Education and School Leadership from Pace University and Touro University, respectively. Her journey in education began 16 years ago as a high school mathematics teacher in Brooklyn, NY at Benjamin Banneker Academy and the founding PTECH in Crown Heights. For the past nine years, she has since served as an Assistant Principal of CityPoly Technic High School in New York City, Principal of the ETECH program in Poughkeepsie, Director of Mathematics K-12 in Newburgh and most recently, the mathematics coordinator for grades Pre-K through 12 for the Enlarged City School District of Middletown.
Mrs. Whaley-Williams believes equity work is at the heart of her life's mission. She subscribes to the notion that we are all products of our expectations (set forth by others and self) and our empowerment. She also thinks that schools can and should be a conduit for young people to see themselves and have access to possibilities in life. In the past two years, she has immersed herself in literature, workshops and experiences connected to diversity, equity and inclusion (DEI) and culturally-responsive teaching and learning and is excited to have been offered a role that focuses on these efforts for change.
"I am always drawn to school districts with diverse populations with strong missions aligned to messages of empowerment and equity," she said. "It is important for me to be of service to communities that keep me connected to my own humble beginnings."
In her new role, she is most looking forward to the chance serve the Monticello community and coordinate opportunities for all (herself included), to grow their awareness of the importance of equity, culturally responsive and anti-racist practices. She lives professionally, and personally, by the motto that "community is a VERB!" and hopes her work in this role fosters stronger school community ties as well as improved outcomes for young people in schools who have historically, and systematically, been underserved and underrepresented.
Yaa Yaa is an avid reader and aficionada of the performing arts. One of her favorite quotes is by one of her favorite authors, James Baldwin, who said, "Not everything that is faced can be changed. But nothing can be changed until it is faced."