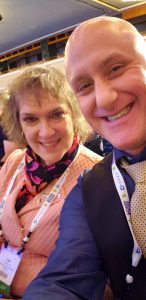 Monticello CSD's Board of Education President Lori Orestano-James and Trustee Todd Grodin were recognized by the New York State School Board Association (NYSSBA) with a Board Excellence Award. According to the organization's website, this distinction serves as an acknowledgment of the extensive time and effort required of school board members who continually strive to expand their knowledge and skills for better board governance. 
Ms. Orestano-James and Mr. Grodin earned this recognition by reaching Level 2 in NYSBBA's School Board U program, which provides board members with opportunities for leadership development, including regional workshops, the annual convention and other NYSBBA events. 
"School board members volunteer a tremendous amount of time and energy to the districts in which they serve," Interim Superintendent of Schools Dr. William Silver said. "On behalf of the district, I congratulate Ms. Orestano-James and Mr. Grodin for this achievement." 
We asked these two board veterans to explain why they're a board member, and why school boards are important; here's what they said: 
Todd Grodin
 When we meet an obstacle in class do we say "WHY ME?"
"No!" my class answers.
"What, instead, do we say to a problem?"
In unison, they echo back "we say: TRY ME!"
"Good," I say.  
 This dialogue happens hundreds of times in my classroom over a year. The repetition is essential for the subconscious to absorb and subsequently adopt that philosophy as its own.
Here too, as a trustee of the Monticello CSD Board of Education Trustee, is my reason for running and becoming a trustee. Being a board member is essential to me because I am a Monti HS alumnus, my twin niece and nephew graduated from here, my daughter is a junior at Monti High and because I bleed Panther blue and white. Hearing how the district could run more optimally is what drives me to be a trustee. I have a huge responsibility to my constituents, and I take it seriously. My messages, phone calls, and person-to-person meetings are my testament to my devotion. My devotion is not to merely listen to problems but to adopt a "we can make this better" approach to doing what's best for the students, faculty, staff, and administration of this community.
 School boards are important because we hold the fiscal responsibilities squarely upon our shoulders. The efficacy of our decisions is what rights the course of all of us involved in this immense educational ship. 
 As the adage from Greece states, "A society grows great when old men plant trees whose shade they know they shall never sit in."  I rest comfortably knowing that recent decisions this solidly-driven board of education has enacted now will result in a savings of $40,000 to $50,000 EACH YEAR from here forward. The magnitude of that is enormous. This extrapolated impact for the upcoming years is how school boards are sagacious and plant trees now, even though they may never sit in the shade of better budgets right now. That shade represents the strength of the well-rooted protocols fashioned now. We impact the future. That's why school boards are essential.
I'm honored to have received the New York State School Boards Association Award for Excellence, having ascended to a Level II board trustee.
Lori Orestano-James
My reasoning for becoming a Board of Education Member was ultimately to give back to the community who helped to raise me. My parents passed away when I was a student at Monticello High School. This community pulled together to ensure that I would be successful, and I felt strongly that owed it to the community to do that for them.
My 35 years in public education as a teacher, building assistant principal, principal and district wide director gave me an inner knowledge of how schools function. Merging that knowledge with my philosophy that schools should always look for what is in the best interest of the student just made sense. It is the passion of this philosophy that has kept me "in the game."
A school board member has three components mandate by law to address: district policy, hiring and oversight of the Superintendent and, fiduciary oversight. I felt I had some expertise in these areas to help guide the leadership of the school district. But knowing what you know is not the same as staying current. In order to continue my learning growth, I have taken advantage of the professional learning opportunities offered by the New York State School Boards Association. And I have learned lots.
With what I garnered during these trainings and discussion with my fellow board colleagues, this Board of Education has allowed me to focus on forward growth in our school district. Furthermore, I believe that listening to those in the school community (students, faculty and staff, administrators, parents, and community members) is important to help guide me in the decision-making process. It is who I have been selected by to serve. And I am honored and humbled by the support they demonstrate by electing me to serve them.
Many ask me why I continue. It is simple. I care. I care about the students. I care about my community. I care about education. My parents taught me that these things are the most important for society to thrive. They would say to me, "You may lose money, and possessions but education is the one thing nobody can ever take away from you." The Monticello Community showed me that as a student; through my work on the Board of Education, I hope I am doing the same for others.