At its Jan. 17 meeting, the Monticello Board of Education held its semi-annual "Board Award Ceremony," to recognize staff and students who exemplify excellence and a commitment to the Monticello Central School District community. Read more about these fine folks, as described by their nominator(s), below. 
Ms. Gernilee Schombs, Nominated by Stephen Wilder, High School Principal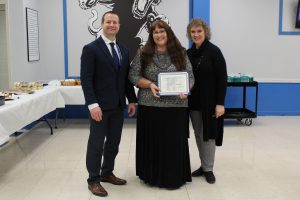 Gernilee Schombs is a champion for her students at Monticello High School. Gerni is consistently investing her time and effort to provide a positive learning environment for not only the students in her classroom but all students in the school. In the classroom, she carefully crafts engaging and meaningful lessons to support her students to become better readers, writers, and thinkers. She also takes the time to get to know them as individuals and to meet their social-emotional needs as well. Gerni genuinely cares for her students and it is reflected in how she challenges them to be their best. She is very nurturing and is successful in working with many of our students who struggle. In addition, Gerni is consistently seen and heard in the hallway between classes. She is smiling, greeting students, redirecting inappropriate behaviors, and giving encouragement.
Gerni also volunteers her time to support school-wide improvement. Gerni has been an MTA building representative for many years now and works diligently to be a bridge of communication between school administration and her colleagues in the MTA. She also serves on our CDEP committee and attends our HS Building Leadership Team meetings to contribute to our improvement efforts. Whenever there is a need Gerni can be counted on to be giving of her time and energy however she can to help make Monticello High School a great place to work and learn.
Gerni's actions are in keeping with the high expectations we have for our teachers in the Monticello Central School District.
Mrs. Brittany Harden, Nominated by Sara Kozachuk, RJK Middle School Asst. Principal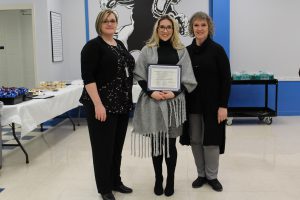 Ms. Harden goes above and beyond to support both students and staff at RJK. She exudes positivity in all she does. She is a true professional and is dedicated to encouraging success among all of our students. Ms. Harden is an excellent team player, and is always willing to collaborate with families and staff members in the best interests of our students. Her colleagues appreciate her welcoming demeanor, attention to detail and overall willingness to take on any challenge. Ms. Harden's welcoming demeanor is also appreciated by her students. They stop by to check in with her on a regular basis, secure in the knowledge that she provides a safe space for them.
Brittany has taken on the unofficial role of RJK Events Planner; arranging a faculty and staff trip to a West Point football game as well as monthly get-togethers outside of the school day. These events build moral at RJK, providing time for colleagues to nurture their professional relationships.
Ms. Stephanie Byrne, Nominated by Stephen Wilder, High School Principal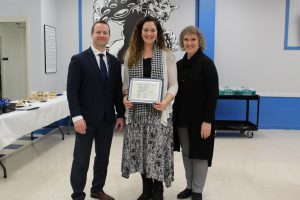 Stephanie Byrne is a dynamic addition to our professional team and is showing how valuable she is in promoting a positive learning environment in our school. As our school librarian, Stephanie interacts with many of our students throughout the day and works diligently to inspire them to enjoy their learning experience.
In the mornings Stephanie can be found at the entrance to the library smiling, greeting students, redirecting inappropriate behaviors, and giving encouragement. During the morning announcements she is heard adding some theatrical and entertaining spins to build some amusement into the day. This is an energy and intention that she gives throughout the day while also holding students accountable for being successful. Stephanie works with her teaching assistant to regularly review student achievement information to provide encouragement and direction when students are not performing well while celebrating student successes when appropriate. In addition, Stephanie is the advisor for the Junior Class and Interact Club. She takes her responsibilities very seriously and is collaborative in her efforts to create opportunities for students to succeed. She is integral to school-wide student event planning and is regularly pitching ideas to help make Monticello High School a great place to work and learn.
Stephanie's actions are in keeping with the high expectations we have for our professionals in the Monticello Central School District.
Empire Program Coordinators: Ms. Samantha Anderson, Ms. Robyn Boardman, Mr. Jason Doyle, Ms. Kim Gordon, Ms. Jennifer Gorr, Ms. Melanie Hector, Ms. Joy Janusas, Ms. Michelle Knowlton, Ms. Sara Kozachuk, Mr. Doug Murphy — Nominated by Nominated by Dana Taylor and Jackie Beamer, Special Programs Administrative Team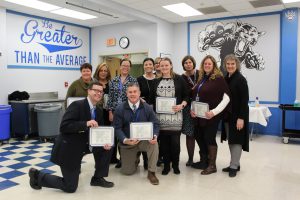 The Program Coordinators in the Before and After School Empire Program have been working diligently since the beginning of the school year to ensure the program runs smoothly, efficiently and effectively in all three elementary schools, Due to the hard work, dedication, and planning of each Program Coordinator, the students and families of the Monticello Central School District have a safe educational environment for their children. The love and commitment of each Program Coordinator brings enthusiasm and hope to the students in the program and we are thankful.
Mrs. Cheryl Hampel, Nominated by William Frandino, Chase Elementary School Principal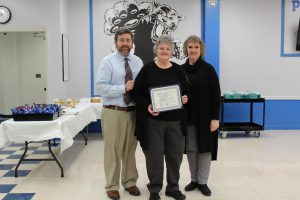 Mrs. Hampel demonstrates excellence in dedication and service. Mrs. Hampel provides aide support for first grade students, monitors the nurse's office when the nurse has lunch, manages logistics for daily bus dismissal, and is willing to assist with anything that may be needed at any time.
In addition, Mrs. Hampel has demonstrated admirable dedication throughout personal physical injuries and family related physical difficulties for which Cheryl has needed to attend to.
Mrs. Hampel's dedication to employment responsibilities and perseverance through personal and family difficulty does not go unnoticed.
Ms. Patricia Murphy, Nominated by Jason Doyle,
RJK Middle School Asst. Principal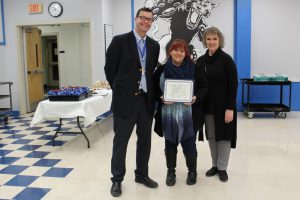 Ms. Patricia Murphy exceeds expectations beyond her role as Secretary for the Assistant Principals Office at RJK Middle School. She is a vital member of the RJK Family and is considered to be a respected supportive staff member by faculty, staff, parents, administration and students. "Ms. Patti" as students refer to her, is empathetic, humble, patient and loving.
Ms. Murphy prioritizes middle school students' emotional, physical, social needs as they enter the Assistant Principals Office. The need of our middle school students are always put first. Every student is respectfully heard, welcomed with open arms, and met with a gracious smile.
Ms. Murphy also has the skills set to quickly determine what district resources are available to immediately support all student needs. Without a doubt, Ms. Murphy fosters student independence and provides wisdom and insights that any teenager can benefit from. Ms. Murphy aims to become a problem solver, works diligently, and supplements healthy relationships among her colleagues.
Mr. Ray Ciprian and Mr. Arthur Johannes,  Nominated by Nelson Quiñones, School Security Supervisor
There are heroes among us.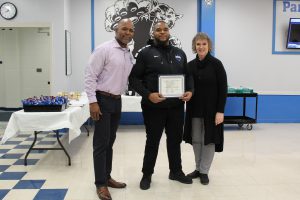 Dressed in black or blue, our School Safety and Security Officers are highly trained to protect our safety, the safety of our kiddos and serve their communities each and every day. Often, our safety personnel go above and beyond the call of duty to take their social responsibilities to the next level, caring for the community in even more great and more impactful ways.
Take a look at this inspirational act of kindness and see how our school security officers are making beautifully tremendous and positive impacts in their communities. This story is sure to bring bright smiles to your faces.
How do we keep kids actively involved in the things that most interest them when not in school?
As avid gym goers and members of a local fitness center, Arthur Johannes and Ramon Ciprian sought different ways to keep our kids off the streets doing positive things. Why not start with health and wellness? They pitched their dream, their vision to the facility owners to allow a number of our students access to workout under their supervision. They clearly cannot afford the membership fees nor do they have the means to get there. The owners felt the heartfelt connection and an agreement was reached. For over a month at both 5:00 a.m. and 6:00 p.m. (Monday through Friday and some Saturdays) Artie and Ray have been building our kids up from the inside out to become bigger, better, faster and stronger leaders!
Mr. Jose Gallo, Nominated by Tammy Mangus,  Superintendent of Schools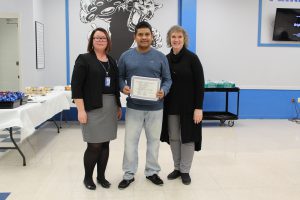 Jose is a team member who makes a total effort, he is kind, dedicated and always serves the district with a smile. Jose's pleasant demeanor is always void of complaint, he is always happy to help.
Jose responds quickly and is always joyful, respectful and genuinely what any office would hope for in an employee.
Thank you Jose for being someone who gets things done well. We appreciate you and all you do.
Tylan Williams, Nominated by Stephen Wilder, High School Principal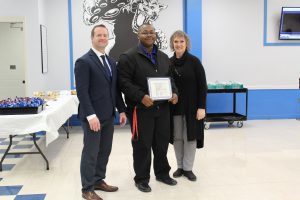 It is with great pleasure that I write this letter of recommendation for the exceptional work of Tylan Williams. This is the third consecutive year that Tylan will receive our BOE Award. He has proven, through his consistency and dedication, how exceptional he is. As a student at Monticello High School, Tylan is a shining example of what happens when you align a person's time, talent and passion. Over the past three school years Tylan has pursued the opportunity to engage in our internship program. He has been enthusiastic and has become a terrific school-wide presence over our announcements in the afternoons where he can be heard providing encouraging reminders and announcements that are informative and professional while also entertaining.
During the execution of his duties, Tylan is a reliable professional who is trusted, makes sound decisions, shows good judgment, shows tact and bearing, takes responsibility for the duties assigned, and has integrity. Tylan continues to be a part of the fabric of our professional community and is a joy to work with and be around. He demonstrates respect for everyone around him and is keenly aware of his role and how he can contribute most appropriately. Tylan has demonstrated courage in holding his peers accountable and keeping them and others safe. When Tylan is not "on the clock" he is volunteering his time. His contributions are special because it is in direct alignment with his values, future goals, and how he has envisioned who he wants to be.
It is easy to be proud of Tylan when he takes so much pride in the work he does. I look forward to working with Tylan during his final year with us. I am confident that he will continue to make us all proud.
During the same meeting, the Board honored the athletes and students who received the Scholar Athlete distinction. Check out our Scholar Athletes here.