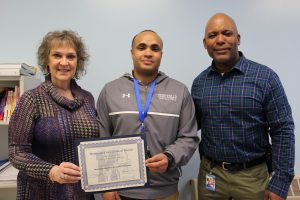 It is often said that children learn best by example. Students of the Monticello Central School District are fortunate to be able to witness adults in their community strive for continuous growth — even if it means they'll have to say "see you later" to a staff pillar such as School Security Attendant Ray Ciprian. After a three-and-a-half-year-long run of working to keep the students of Robert J. Kaiser Middle School safe, Mr. Ciprian is leaving the Monticello team to become a student himself. In the second week of January, he will enter the New York State Police Academy in Albany, New York.
A member of the Monticello High School class of 2006, Mr. Ciprian earned a degree in Criminal Justice from John Jay College in New York City before returning to the District as a School Security Attendant. In that time Mr. Ciprian's style of rapport-focused leadership has earned him admiration from the district's community. Prior to his enrollment in the Police Academy, the Board of Education had selected Mr. Ciprian as a recipient of the Monticello Board Award. When Board President Lori Orestano-James learned that Mr. Ciprian would be at the Academy during the official award ceremony, she insisted on personally presenting him with the distinction on behalf of the Board of Education prior to his departure in order to acknowledge his exemplary service to the district.
"The Board's goal is to ensure the safety and security of our students and to have the caliber of people such as Ray to work with our students," Ms. Orestano-James said. "We wish him the best of luck in his future endeavors and thank him for his service to the Monticello School District."
Monticello's Director of Safety and Security, and Mr. Ciprian's supervisor, Nelson Quiñones, says that he prides himself on building up his team of young personnel to show them that they have a positive future. Mr. Ciprian will be the fourth member of Mr. Quiñones' security team at MCSD to pursue a career in law enforcement.
"I want them to use their experience here to go on to bigger things," Mr. Quiñones said. "Ray has served his community at this level and gotten great experience. He's dealt with people from all walks of life. He is ready for this."
"Working in Monticello has been a major stepping stone in my life," Mr. Ciprian said. "I am proud to be an example for our students."