100 families in the Monticello community won't have to worry about providing a turkey dinner for their loved ones come Thanksgiving, thanks to the annual Monticello High School Food Drive.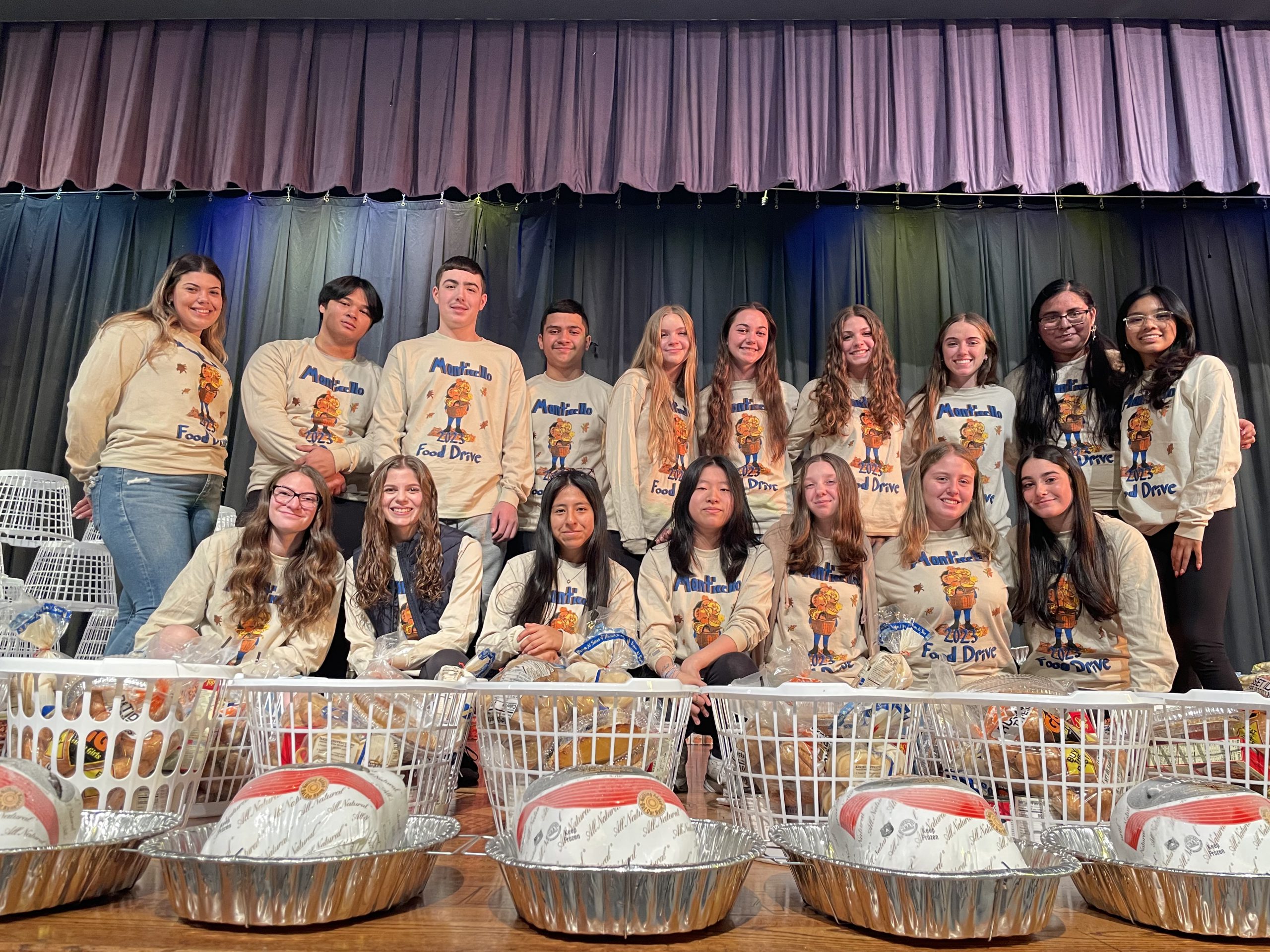 A tradition for more than three decades, the food drive provides a full dinner, with all of the fixings, for families in need throughout Monticello. The Sullivan County United Way helps with identifying families in need and distribution, while the MHS students who comprise the Food Drive Committee help with the logistics. This year's committee included: Hailey Kaplan, Eve Alden, Alexandra Cushing, Michelle Lima, Kaitlyn Weiss, Alex Dietz, Adisyn Somers, Ariana Guzman Torralba, Chris Pinto, Josh Miller, Anthony Belgiovene, Didi San Miguel, Kaitlyn Morse, Sophia Vandermark, Brielle DiCio, Rachel Zirt, and Yuki Kwok.
Historically, homerooms would compete to see which class could raise the most money to support the cause. This year, the committee asked students to compete with their time, rather than their money, by showing up to class and being prepared. Classrooms were ranked by best on-time attendance during first period, with the winning class receiving a breakfast cooked by the building administrators.
The results are:
6

th

place – Mr. Smith

 

5

th

place – Mr. Raabe 

 

4

th

place – Mrs. Keesler 

 

3

rd

place – Miss. Mathern 

 

2

nd

place – Mr. Maranzana

 

1

st

place – Mrs. Ross

 
Students were also asked to submit artwork to be considered as the official design for the 2023 Food Drive. Eve Alden's design won, and was printed on t-shirts worn by the committee.
At the assembly, Faculty Advisor Katie Alvarez spoke about the history of the food drive, before inviting members of the committee up to explain the importance of the drive in the community.
"As a community, we must all support each other because we are one unit. If you look around, we all have different backgrounds, attributes, and other things, but the one thing that we have in common is that we go to school in Monticello," Food Drive Committee Member Rachel Zirt said.
Watch an interview with members of the food drive committee in Dr. Evans' Nov. 20 episode of It's Monday in Monticello: