Article courtesy of  AOF senior Abraham Corces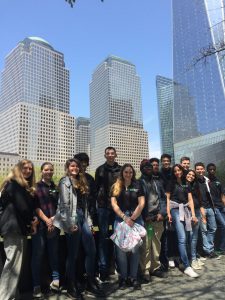 On the Academy of Finance trip, students looked at the other side of the finance world in the financial capital of the world- New York City. An extensive tour of Wall Street, delving into history and structures was given, completely widening the view on just how important this road is on not only the past, but the present and future. From observing the New York Stock Exchange, to the first restaurant in America (Delmonico), to symbolic statues like the Fearless Girl and the Charging Bull, students truly got a wider picture of the Financial District of Manhattan.
While finances are an obvious focus of AOF, other important stops were made on the trip. The 9/11 Memorial Museum was visited for both students and chaperones alike to take in the tragic events that occurred almost 18 years ago. Although a depressing event, it was seen how one should take in tragedy, by not only moving on from it, but remembering it as well. With the thousands of names engraved on the memorial on the symbolic fountain, to significant pieces of history like the, "The Final Column", the sole surviving support structure in the World Trade Center rubble, significance and remembrance are the two words that stuck with me the most.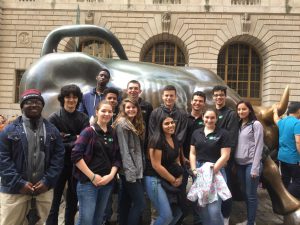 Lastly, students also took a first time visit to the very headquarters of their organization, NAF. Here, students indulged in local sandwiches, received goodie bags provided by NAF, and had the opportunity to discuss their experiences and future hopes in the Academy. Students were allowed to discuss their time in the Academy, college plans, and the future benefits they will be able to reap once becoming NAFTrack Certified. At the end of the day, students got a taste for many aspects provided by the city. From learning more about 9/11, Wall Street, and visiting NAF, eventful would be an understatement.