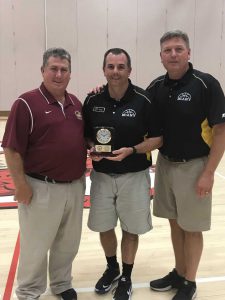 Chris Russo, the Monticello High School boys' varsity basketball coach, has received the Ben Nelson Service Award from the Basketball Coaches Association of New York (BCANY).
The award is presented annually to a coach who exhibits selfless quality of service to others, putting others above themselves on and off the court.
"Chris Russo is a very deserving recipient of the Ben Nelson Award," said Todd Rose, the head coach of the Washingtonville boys' basketball team and past president of the Basketball Coaches Association of New York. "At the local level, Russo is the Section IX Boys representative where he spearheads an annual coaches and referees golf outing every July. Russo is heavily involved in the Hall of Fame Induction Ceremony held in Glens Falls every March He is in charge of the annual BCANY Statewide Fall Clinic held in Cortland each September where he secures the speakers/presenters and creates the schedule. He also plans the BCANY Mid-Hudson Boys Showcase games for Section IX boys' basketball players in October at Goshen High School. Russo is also involved in the planning of the Summer Hoops Festival held every August in Johnson City. It is clear that Chris Russo exhibits the selfless quality of service to both players and coaches throughout New York State."
The Ben Nelson Service Award is presented to a coach who seeks to promote the game of basketball by involving others in activities that help people either in their local community or in the basketball community at large. This coach serves as a role model and mentor to others through their service efforts. He or she constantly seeks out ways to help other coaches improve, teach the value of service to their players, and impact their community through the game of basketball.
Congratulations to Coach Russo on receiving this award. We appreciate everything you do for our students and our community.