Monticello High School's Art Department is very pleased to announce the 2020 Scholastic Art Award winners. They include Gillian Ibarra and Kali Pantone who won Gold Key awards and will move on to the national competition.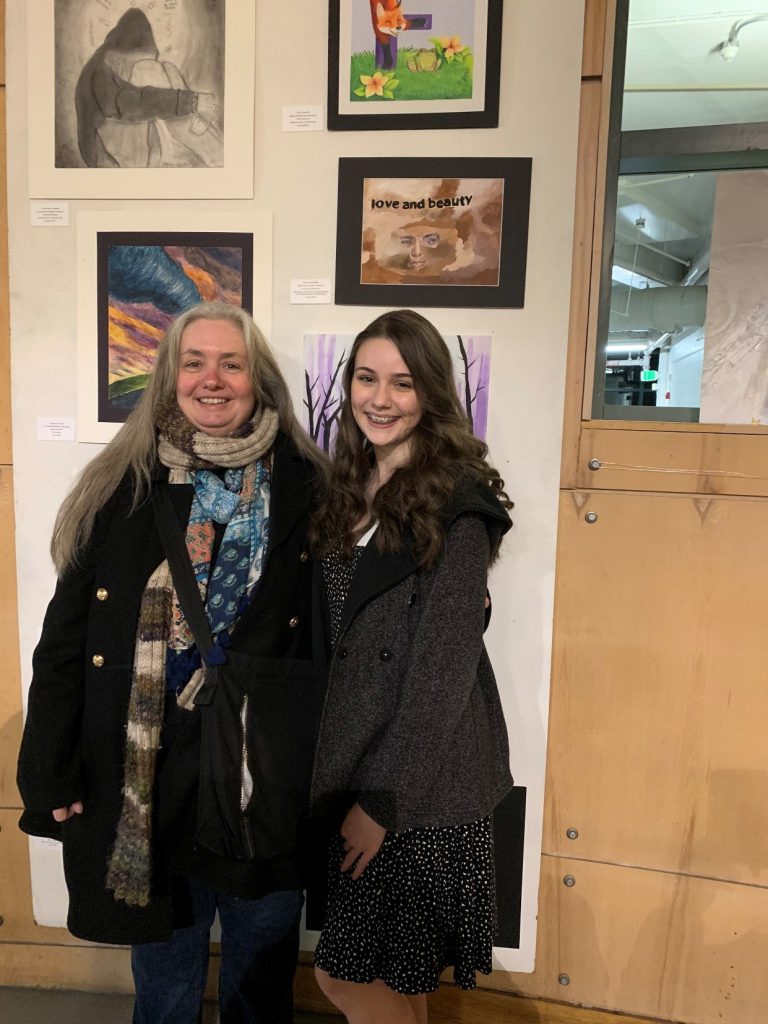 Gillian Ibarra, a freshman at Monticello High School, said the contest changed her view of her own artwork.
 "My artwork is an Editorial Cartoon. It is to show a message of the importance of equality between races and ethnicity," said Gillian. "At first I didn't think my art was good but winning the award changed my viewpoint on my artwork." 
"'Hanna' is created after my best friend, Hanna," said senior Kali Pantone. "She's the smartest, funniest weirdo I've had the pleasure of meeting. This piece is different from all my other work because I wanted to capture this essence of hers into the picture."
She talked of how important art is in her life and how grateful she is for this honor.
"Art is a big part of my life, and it has been for as long as I can remember," said Kali. "Creating art, as it is for many other people, is how I relax, spend my free time, and express myself. I don't care what other people think of my work because being an artist isn't about recognition; it's being able to communicate with other people through more than just words. So if someone doesn't like what I've made it's because we weren't able to communicate this way. Being a Scholastic Awards winner means that I've succeeded in communicating with the audience, and I'm grateful to have had that opportunity."
Monticello has a long-standing tradition of high quality visual arts programming, and has regularly participated in Scholastic since 2012. 
The local Scholastic regional affiliate, which began in 2009, serves Sullivan, Ulster, Dutchess, and Orange Counties. The event kicks off each year with the Regional Affiliate Awards Ceremony and Exhibit at the beginning of February at SUNY New Paltz.
Students compete against each other in a wide variety of categories. Awards include Honorable Mention, Silver Key, and Gold Key. Competition is tough for all awards with several thousand works of art entered annually for the regional contest alone.
Silver Key winning works of art show at the annual exhibit held at SUNY New Paltz, while Gold Key works exhibit and move on to the national level competition where students compete against all Gold Key winners across the nation.
Freshman Mariam Nada received a Silver Key award.
"My art work, 'Lady With an Ermine 2', was really creative," said Mariam. "I was thinking about a modern style for Muslim girls; usually there is one image of Muslim girls, and I wanted to show style. I put her in a Nike hoodie and more fashion stuff. This award was really an amazing opportunity for me, it was a new and wonderful experience for my first year in high school."
Senior Gabrielle Acosta-Herrera explained that her piece was a self-portrait of a picture in her house as the sun was going down.
"It was the time of day where the sunset casts a strong orange hue that can complement any skin tone," said Gabrielle. "When I paint, I typically work on different sections at a time. Before I progressed any further, my teacher suggested that I give the piece an unfinished look, and keep it like it is. When I heard the news about winning a Scholastic Art award I was over the moon. As a senior with a busy schedule, I can't dedicate as much time to art as I used to. Being a winner reassures me that no matter how many days it takes to get back into creating, I still haven't lost my potential skill."
Their teacher was very proud of them.
"It is an honor for our students to be a part of this program with works honored, accepted into the Regional Affiliate, and sent onto nationals this year," said Brenda Sywalski, high school art teacher.
2020 Scholastic Art award winners from Monticello High School
Gold Key Awards
Gillian Ibarra, Grade 9 – Editorial Cartoon Category, sponsored by The Herb Block Foundation; "Love and Beauty"
Kali Pantone, Grade12 – Drawing & Illustration Category; "Hanna"
Kali Pantone, Grade12 – Drawing & Illustration; "Her"
Silver Key Awards
Gabrielle Acosta-Herrera, Grade 12 – Painting Category; "Contemporary Chiaroscuro"
Mariam Nada, Grade 9 – Editorial Cartoon Category, sponsored by The Herb Block Foundation; "Lady With an Ermine 2"
Kali Pantone, Grade 12 – Painting Category; "Early Bird"
Honorable Mention
Shochi Anzuma, Grade 9 – Editorial Cartoon Category, sponsored by The Herb Block Foundation; "Trapped"
Kali Pantone, Grade 12 – Painting Category; "When In Italy"
Kali Pantone, Grade 12 – Drawing & Illustration Category; "Sierra"
Kali Pantone, Grade12 – Painting Category; "Waves"
Kali Pantone, Grade12 – Painting Category "Fire Skies"