Article courtesy of Coach Rick Sternkopf
Monticello Panthers competed at the OCIAA Championship meet, held at Bear Mountain on Oct. 25. It was a challenging 3.0 mile course.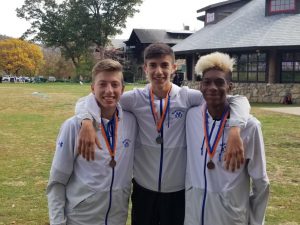 Three Monticello Panthers placed in the Top 10 in the Varsity Boys Race and here they are showing off their Medals.
 Left – Right: Brandon Mancroni (8th Overall – 16:05), Steve Bello (2nd Overall – 15:31), Evan Waterton (4th Overall – 15:56)
Our next race (Section IX Class B Championship) will be Wednesday, Nov. 6th at Bear Mountain. Going into the race, Steve Bello is the favorite to win, with Evan Waterton and Brandon Mancroni seeded 3rd and 4th respectively. Taina DeJesus is seeded just inside the Top 10 for the Varsity Girls race.