Students are missing their teachers and teachers are missing their students!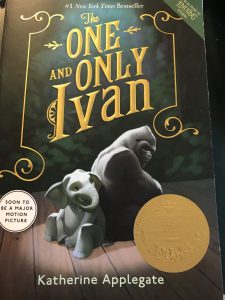 Why not read together online? Cooke Elementary School teachers and administrators are reading books for their students – and all students – right here on our website!
Their latest project is The One and Only Ivan.
The One and Only Ivan, by Katherine Applegate, is the story of Ivan, a easygoing gorilla living in a shopping mall. Life is going just fine for him and he rarely misses his life in the jungle at all. Then something happens – he meets Ruby, a baby elephant taken from her family. Ruby changes things for Ivan and he sees life differently. It's up to Ivan to make it a change for the better.
Go to the links on the bottom right of the Cooke school's web page to also read James and the Giant Peach with your favorite teachers.