There's a new sheriff – well, principal – in town!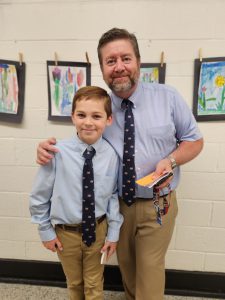 Emma C. Chase Elementary School student Kyle Edwards won the privilege of being Principal for the Day at the school through a tricky tray fundraiser, and last week, he was able to claim his prize.
Kyle spent the day shadowing Chase Principal Bill Frandino, and he certainly kept busy! He began by helping to prepare for the school's annual Flag Day event by setting up chairs, speakers and the podium, and by helping to distribute the Flag Day essay contest awards. The local Wurtsboro American Legion Organization, who facilitated the event, were impressed by Kyle's help and polite manner.
After the Flag Day ceremony, Kyle walked the building multiple times. During his rounds, he managed to tie shoes for a kindergartener, lead a class in a game similar to Pictionary, and announce the week's spirit winners through a magic card trick in a third-grade classroom.
"Kyle said many "good mornings," "good afternoons," and "please, and thank yous," while giving out many handshakes and all the other common formalities," Principal Frandino said. "He was an excellent principal for the day and really set the standard high."