Fourth and fifth grade students at KLR participated in a STEAM Fair. What is STEAM? It stands for science, technology, engineering, arts and math. The focus is hands-on learning with real-world applications to help students develop a variety of skill sets.
The projects created by the students for the KLR STEAM Fair were amazing. The students showed their  creativity as well as their knowledge of science, technology, engineering and math.
Here are the awards given to the fourth and fifth-grade:
Fifth Grade
First Place
Javin Snowden and Serenity Moore – The Solar Oven
Reagan Zangla and Josephine Marin – Dirty Water to Clean Water
Taylor Crumley – Electric Fruit
Juan Velez – Converting Sunlight into Heat
Hannah Bell – Ball Launcher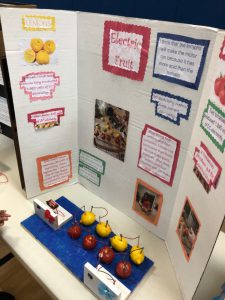 Second Place
Morgan Hutchins – Can Liquids Cause Tooth Decay
Taisha Cordero – Water Fountain
Brayden Davis – Make Light from Wind
Tyiese Mack – The Amazing Catapult
Tristyn Watson – The Amazing Egg Drop
Shawn Palmer – Water Filtration System
Third Place
Sam Rein – Splitting Water Molecules
Giavonna Smith and Skyla Borgia – Lemon Electricity
Sierra Auletta – Story Bridges
Emma Rausch – Electromagnetic Power
Honorable Mention
Isaac Salcedo and Joniel Cholula – Potato Power
Angelo Spence – How much can a Cardboard Boat Hold?
Michael Riebe – Dragster
Isabela Rivera and Jessica Stanton – Tomato Battery
Miguel Cruz – Dirty Water
Andre Hill – Is Your Water Dirty?
Fourth Grade
First Place 
Nikolai Franco – Lemon Battery
Tharah Tate – Hydro Electricity
Lorenny Guerra – Walking Water
Lisa Collins and Michael Pappas – Magic Liquid Sand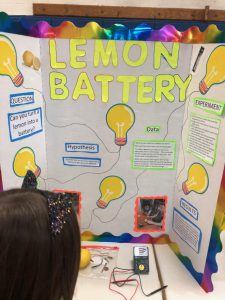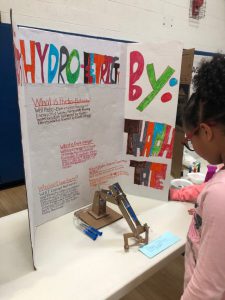 Second Place
Ivelisse Rubert and Jamel Little – Last Balloon Standing
Alexandra Maceghee and Kayla Seaman – Color Ball Magic Milk
Hope Kinne – The Art of the Heart
Karen Dutan

I

and Josheiliz Gonzalez – Crystals
Deanna Livingston – Plastic Milk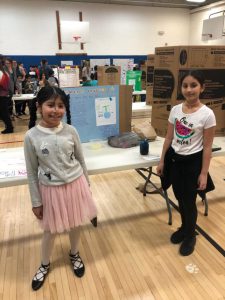 Third Place 
Hayden Gonzalez – Butler Bot
Sincere Embry – Tooth Decay
Thomas Macias and Aga Chowdhury – How Photosynthesis Works
Honorable Mention
Sasha Forbes – Electrical Magnet
Fiolla Gjonbalaj – Recycling
Rahmel Harris – Santa's Gift Box