Get some simple and easy tips, tricks, and ideas to save time., save money and eat Healthy from SNAP-ED NY and Cornell Cooperative Extension.  Sign up by texting Monticello to 89860. Standard texting and data rates apply.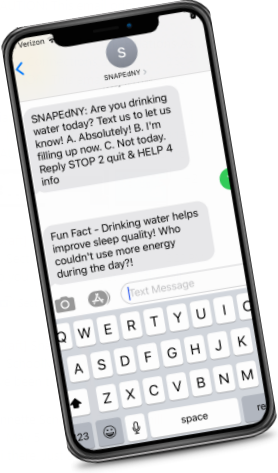 Receive 1-2 texts per week to keep your family healthy & active.
Time-saving solutions
Tips for saving money
Tricks to eat healthy Ideas for meals
Ideas for meals
Local events, classes
& more!!!
Want recipes, tips and ideas right away? Visit www.snapedny.org or look for our SNAP-Ed NY channel on YouTube
This initiative is sponsored by: 


SNAP-Ed New York is funded by USDA's Supplemental Nutrition Assistance Program (SNAP). This institution is an equal opportunity provider. Cornell Cooperative Extension is an employer and educator recognized or valuing AA/EOE, Protected Veterans and individuals with disabilities, and provides equal program and employment opportunities. Please contact the Cornell Cooperative Extension SNAP-Ed Program (snap-ed-hv@cornell.edu, 845-344-1234) if you have any special needs or modifications.
Disclaimer: This event is sponsored by the partners listed in the event above. It is neither sponsored nor endorsed by the Monticello Central School District. Monticello Central School District is distributing this information as a public service. Any marketing materials regarding this event were reproduced by the sponsoring group(s) at no cost to the school district